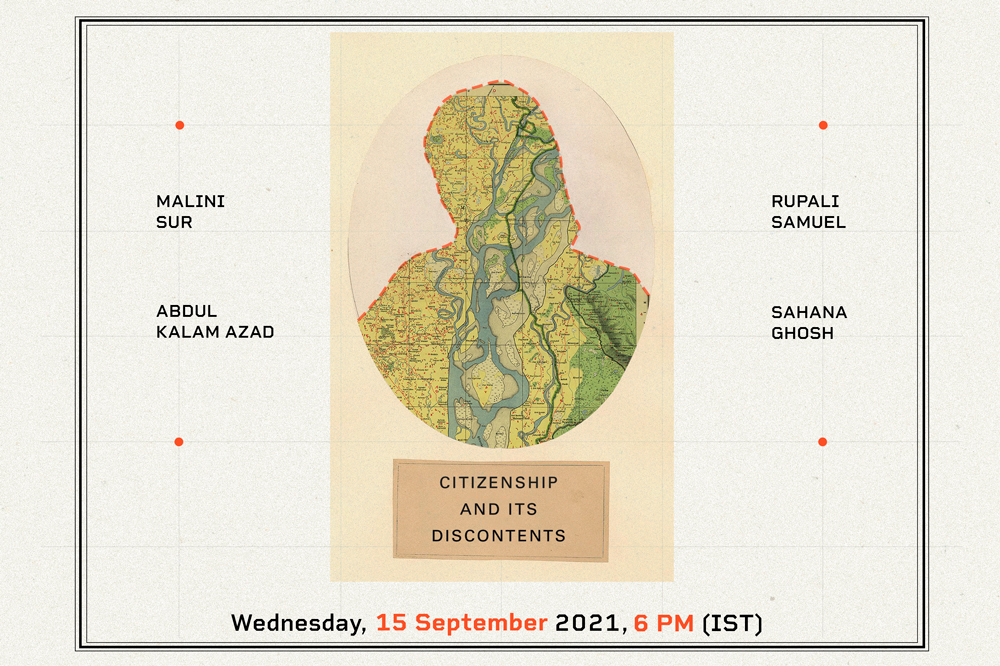 2021 | Citizenship and its Discontents
Citizenship and its Discontents
Malini Sur | Abdul Kalam Azad | Rupali Samuel | Sahana Ghosh
Curated by Subasri Krishnan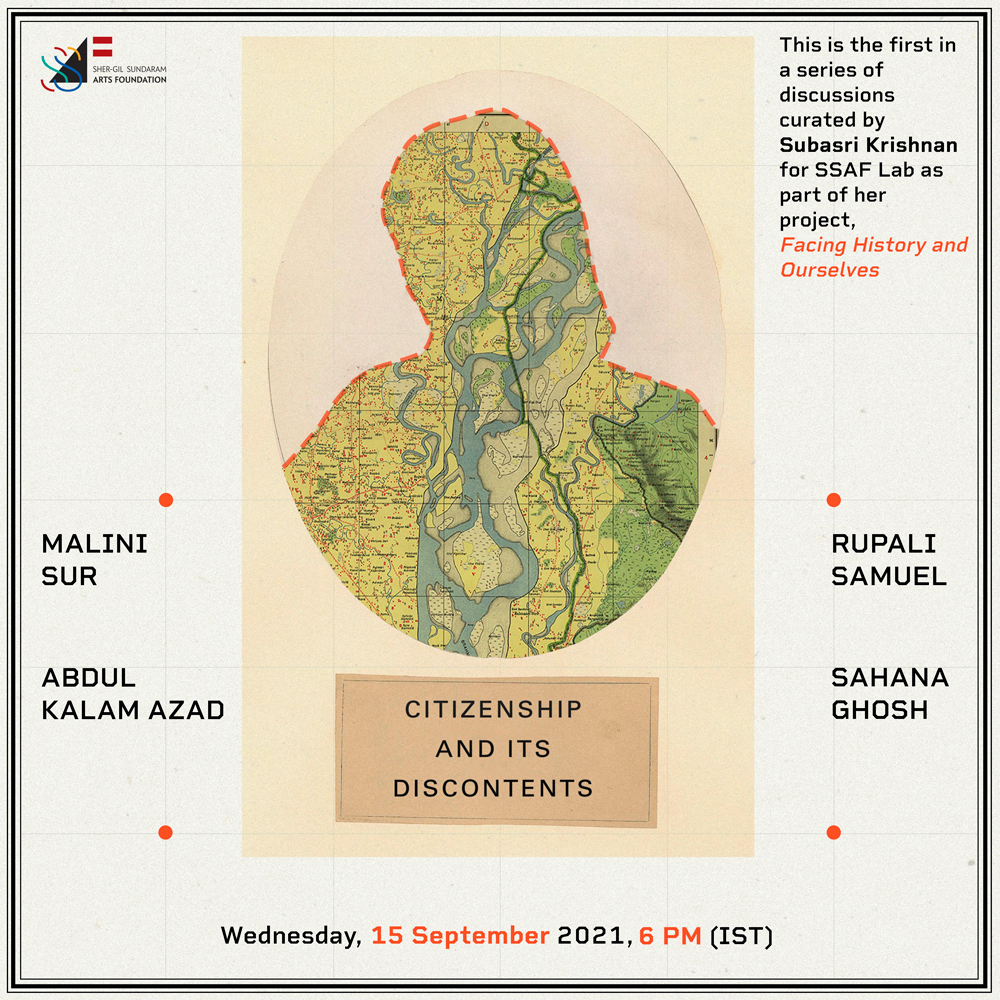 'Citizenship and its Discontents' is the first in a series of conversations curated by Subasri Krishnan as part of her project Facing History and Ourselves, which examines ideas of citizenship in India that lie within and outside the legal/bureaucratic imagination and the ways in which people negotiate and reclaim them. How might we imagine a future beyond the categories of 'citizen', 'foreigner', 'nation-state' – concepts and conditions that are the result of late 18th century European imperialism, continue to be at the forefront of the legal exclusion of people, and are reproduced in official narratives in the public domain?
Facing History and Ourselves foregrounds oral testimony as a mode of creating alternate histories of people and places as a way to start building an archive of people and their lives, beyond the label of being a 'stateless' person in Assam.
The series, supported and hosted by SSAF Lab, will include academics, lawyers, poets and filmmakers whose work critically engages with borders, the nation-state and the Partition of the Indian sub-continent.
The Making and the Un-making of Citizens
Malavika Madgulkar
'Citizenship and its Discontents' was the first in a series of conversations curated by filmmaker Subasri Krishnan as part of her project 'Facing History and Ourselves'. Subasri's project was conceived as an exercise in foregrounding oral testimonies in order to excavate an alternate contemporary history of Assam and its inhabitants, beyond …
Read more
Subasri Krishnan is a filmmaker whose works engage with questions of citizenship through the lens of memory, migration and testimony. Her films include Brave New Medium on internet censorship in South East Asia, This or That Particular Person about official identity documents and Aadhar, What the Fields Remember about the Nellie massacre in Assam in 1983, Sikhirni Mwsanai (Dance of the Butterfly) about a disappearing music form in Chirang District, Assam. Her forthcoming film Shadow Lines explores questions of citizenship and nationhood in contemporary Assam through the National Register of Citizen (NRC) exercise. She leads the Media Lab at the Indian Institute for Human Settlements (IIHS), an educational institution that works on urban practices, and is a part of the team that curates the Urban Lens film festival.
Malini Sur is a Senior Lecturer in Anthropology at Western Sydney University. She is the author of Jungle Passports: Fences, Mobility, and Citizenship at the Northeast India–Bangladesh Border (University of Pennsylvania Press, 2021). She has also published on borderlands in Cultural Anthropology, Comparative Studies in Society and History and Modern Asian Studies. Malini's fieldwork photographs on South Asia's borders have been exhibited in Amsterdam, Berlin, Bonn, Chiang Mai, Gottingen, Heidelberg, Kathmandu and Munich.
Please see 'Betrayals and Borders: Kali and her Daughters', Malini's visual essay produced for SSAF here: https://ssaf.in/betrayals-and-borders-kali-and-her-daughters/
Abdul Kalam Azad is a human rights researcher, community organizer and writer. Currently he is writing his doctoral thesis at Vrije Universiteit, Amsterdam. He has been working on a number of research projects on the citizenship crisis in Assam in collaboration with various universities. He is one of the co-investigators in the University of York project 'Reimagining Citizenship: The Politics of India's Amended Citizenship Laws'. He has previously worked as a research fellow with Tata Institute of Social Sciences.
Rupali Samuel is a human rights lawyer, leading litigation work at Parichay, a collaborative legal aid clinic among law universities across India. Her work focuses on citizenship and statelessness law in India, with an emphasis on citizenship determination cases in Assam. She was the Harvard Law School Henigson Human Rights Fellow in 2020-2021. She graduated from NALSAR University of Law, Hyderabad and has a Masters in Law from Harvard Law School.
Sahana Ghosh is an Assistant Professor in the Department of Sociology at the National University of Singapore. She is a social anthropologist whose research, writing and teaching are at the intersections of gender, mobility, borders and militarism in contemporary South Asia. Her current book project, A Thousand Tiny Cuts: Mobility and Security Across the India-Bangladesh Borderlands, takes a transnational feminist approach to trace how bordering historically makes relational hierarchies of value in people, places and things.