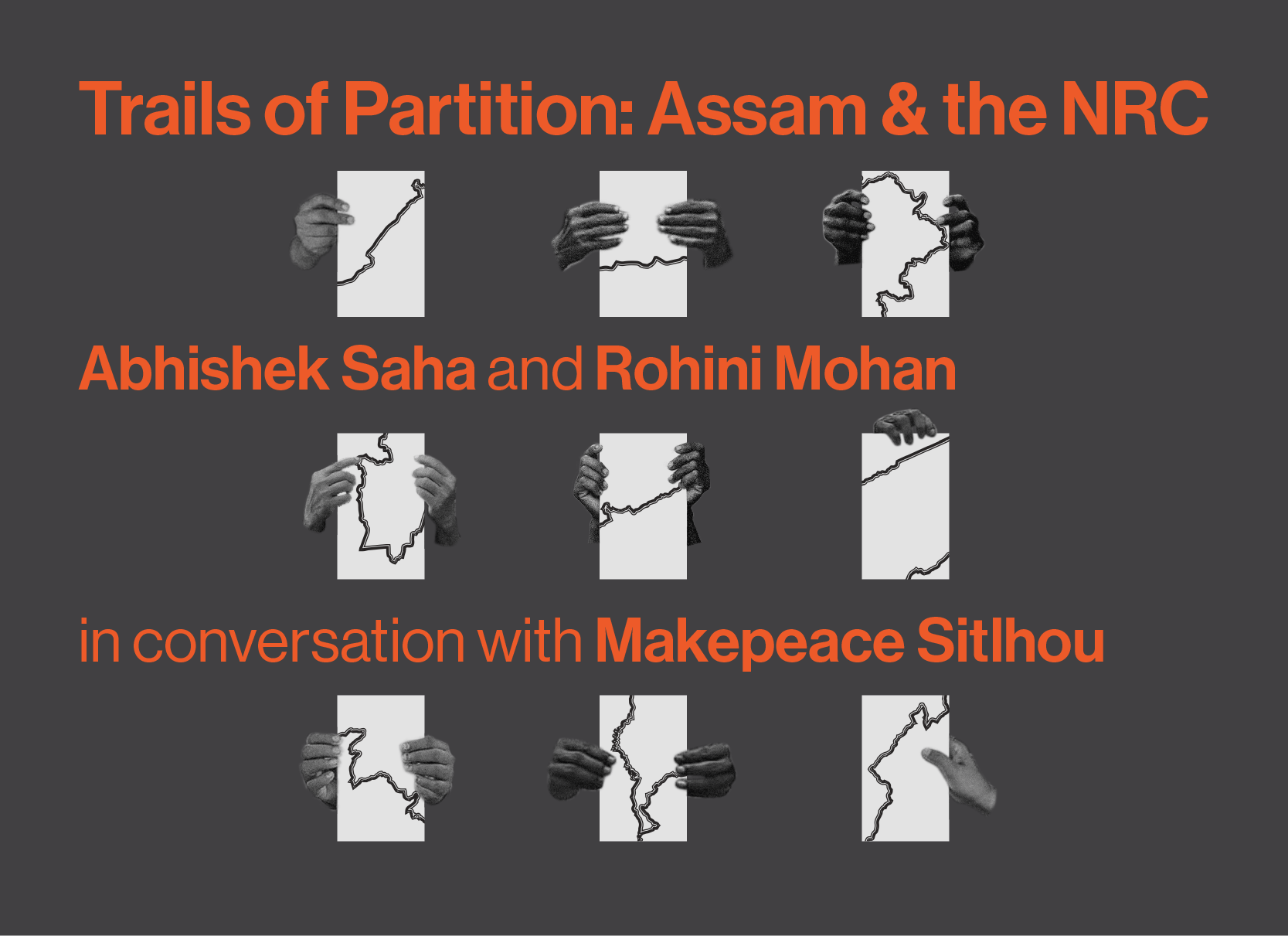 2022 | Trails of Partition: Assam & the NRC
Trails of Partition: Assam & the NRC
Abhishek Saha and Rohini Mohan in conversation with Makepeace Sitlhou
Curated by Subasri Krishnan
Saturday 16 July, 6pm IST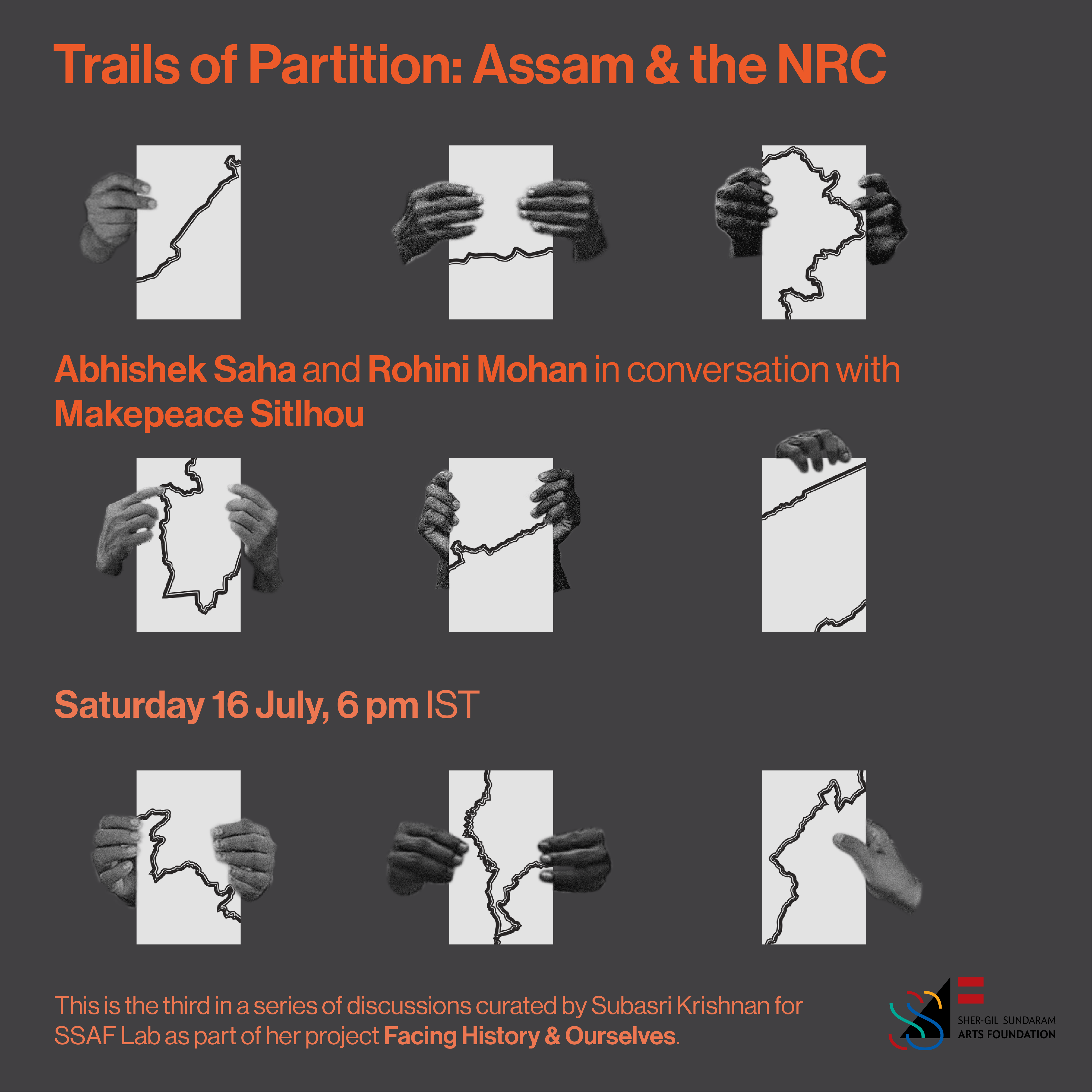 Poster design: Sourav Sil
'Trails of Partition: Assam and the NRC': Rohini Mohan and Abhishek Saha in conversation with Makepeace Sitlhou.
The ongoing citizenship crisis in Assam has its roots in the formation of the Indian nation-state. The current National Register of Citizenship (NRC), a bureaucratic exercise that took place in Assam between 2015–2019 and which could potentially leave 1.9 million people stateless, is in many ways a continuum of unaddressed and contested histories. The panel will examine ways in which these debates and processes have left a trace in the contemporary moment.
This is the third in a series of conversations curated by Subasri Krishnan as part of her project Facing History and Ourselves which examines ideas of citizenship in India that lie within and outside the legal/bureaucratic imagination and the ways in which people negotiate and reclaim them. Facing History and Ourselves foregrounds oral testimony as a mode of creating alternate histories of people and places as a way to start building an archive of people and their lives, beyond the label of being a 'stateless' person in Assam.
The series, supported and hosted by SSAF Lab, includes academics, lawyers, poets and filmmakers whose work critically engages with borders, the nation-state and the Partition of the Indian subcontinent.
Subasri Krishnan's work engages with questions of citizenship through the lens of memory, migration and testimony. Her films include Brave New Medium on internet censorship in South East Asia, This or That Particular Person about official identity documents and Aadhar, Sikhirni Mwsanai about a disappearing music form in Chirang District, Assam. Her forthcoming film Shadow Lines explores questions of citizenship in Assam through the National Register of Citizen exercise. She leads the Media Lab at the Indian Institute for Human Settlements and is a part of the team that curates the Urban Lens film festival.
Rohini Mohan is an independent journalist based in Bangalore, India. Her investigation that used RTIs to find patterns of bias in the citizenship process in Assam in 2019 won several awards including the Chameli Devi Jain Award. She is the author of The Seasons of Trouble: Life Amid the Ruins of Sri Lanka's Civil War (Verso, 2014), and is currently working on a book on people's movements in India.
Abhishek Saha is a journalist and writer. Born and raised in Guwahati, Assam, Saha graduated as a civil engineer from Birla Institute of Technology, Mesra, Ranchi before switching to journalism. He studied print journalism at the Asian College of Journalism, Chennai. Until last year, he covered Northeast India for The Indian Express. Previously, he reported from Kashmir for the Hindustan Times from 2015–18.  Saha won the prestigious Ramnath Goenka Excellence in Journalism Award for his coverage of the Kashmir unrest of 2016. He is completing a Master's program in Migration Studies at the University of Oxford. His book No Land's People: The Untold Story of Assam's NRC Crisis (2021) is published by HarperCollins India.
Makepeace Sitlhou is an independent journalist covering the region of Northeast India. She writes on politics, identity, gender and governance. Her work has been published in several publications including CNN, The Daily Beast, Vogue Business, Al Jazeera and the British Medical Journal. She is a recipient of the South Asian Journalism Association award for business reporting, Red Ink award in the lifestyle category, Laadli Media award for gender sensitive reporting and a special mention in the Asian College of Journalism award for investigative journalism. Makepeace previously worked for Amnesty International as a researcher and campaigner and will be a Hubert H Humphrey Fulbright fellow at the Walter Cronkite School of Journalism in Arizona State University in Fall 2022.