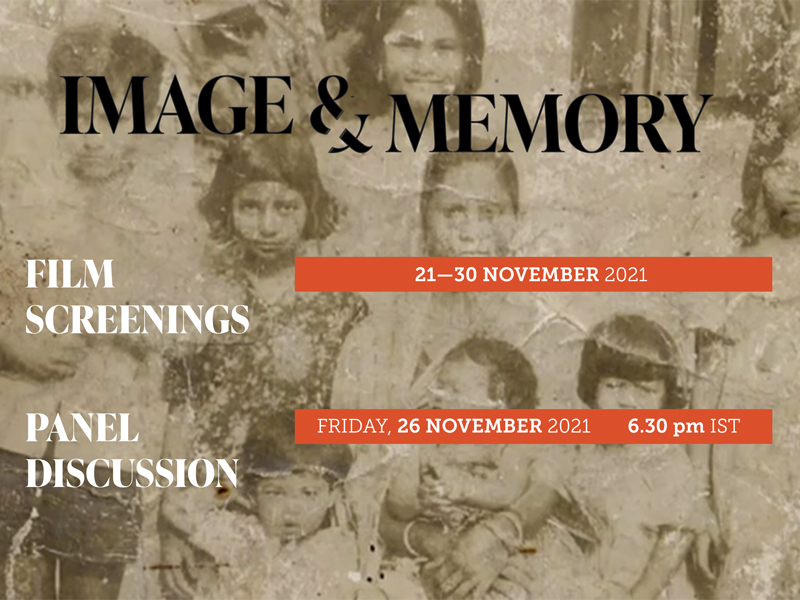 2021 | Image and Memory

Panel Discussion: Sourav Sarangi | Supriyo Sen | Devshree Nath | Subasri Krishnan | Surabhi Sharma 
Friday, 26 November 2021
Film Screenings: Curated by Subasri Krishnan
21–30 November 2021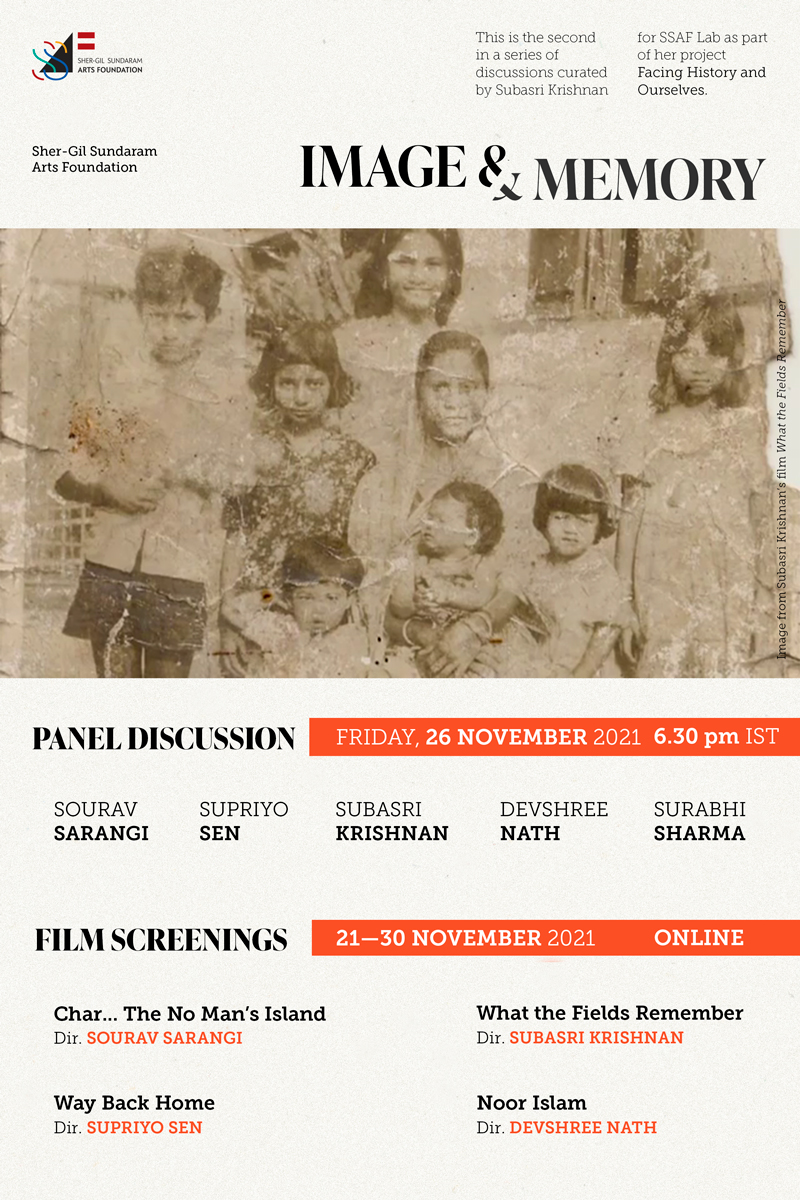 Poster design: Sourav Sil
'Image and Memory': a series of films curated by Subasri Krishnan and a panel discussion with filmmakers Sourav Sarangi, Supriyo Sen, Devshree Nath and Subasri Krishnan, moderated by Surabhi Sharma.
The films that were screened online from 21–30 November included Char…the No Man's Island, Way Back Home, Noor Islam, and What the Fields Remember. They engage with questions of identity, citizenship, memory and the ways in which individuals histories have been shaped by the nation-building project.
'Image and Memory' is the second in a series of conversations curated by Subasri Krishnan as part of her project Facing History and Ourselves, which examines ideas of citizenship in India that lie within and outside the legal/bureaucratic imagination and the ways in which people negotiate and reclaim them. How might we imagine a future beyond the categories of 'citizen', 'foreigner', 'nation-state' – concepts and conditions that are the result of late 18th century European imperialism, continue to be at the forefront of the legal exclusion of people, and are reproduced in official narratives in the public domain?
Facing History and Ourselves foregrounds oral testimony as a mode of creating alternate histories of people and places as a way to start building an archive of people and their lives, beyond the label of being a 'stateless' person in Assam.
The series, supported and hosted by SSAF Lab, includes academics, lawyers, poets and filmmakers whose work critically engages with borders, the nation-state and the Partition of the Indian sub-continent.
Curated by Subasri Krishnan
21–30 November 2021 
Subasri Krishnan's work engages with questions of citizenship through the lens of memory, migration and testimony. Her films include Brave New Medium on internet censorship in South East Asia, This or That Particular Person about official identity documents and Aadhar, Sikhirni Mwsanai about a disappearing music form in Chirang District, Assam. Her forthcoming film Shadow Lines explores questions of citizenship in Assam through the National Register of Citizen exercise. She leads the Media Lab at the Indian Institute for Human Settlements and is a part of the team that curates the Urban Lens film festival.
Supriyo Sen has directed several documentaries including Way Back Home, Hope Dies Last in War and Wagah. Supriyo has won 40 international awards for his films in Berlin, Karlovy Vary,  Bilbao, Krakow, Tampere, Hamburg, Uppsala, Munster, Huesca, Abu Dhabi, Damascus, Zagreb, IFFI (Goa), Rio de Janeiro and Mumbai among others. His documentary Hope Dies Last in War has won four National Awards including President's Gold Medal for the best documentary of the year. Supriyo's first feature fiction Tangra Blues released in theatres across West Bengal to critical appreciation in 2021.
Sourav Sarangi is an award-winning filmmaker from India. His debut film, Tusu Katha (The Tale of Tusu) is a lyrical observation of marginalized lives and cultures in Eastern India. Bilal, the story of a child living with his blind parents, received a huge response in festivals, theatres and TV stations, winning many awards. CHAR…the No-Man's Island is a feature documentary set at the India Bangladesh border. Shot in Iraq, Karbala Memoirs is a visual elegy of a tragic war. Currently Sourav is making a documentary titled The Sinking Island set in the Sundarbans delta of India and Bangladesh.
Devshree Nath is an independent filmmaker from India. She has completed her film studies from the National Institute of Design, India in the year 2020. She has always been interested in telling impactful stories and most of her work reflects that as well. She believes that stories, aided with the powerful tool of filmmaking, can bring about a positive change in society or, at the very least, start important conversations.
Surabhi Sharma has been an independent filmmaker making feature-length documentaries and short films since 2000. Her documentaries, fiction, and video installations engage with cities in transition using the lens of labour, music, and migration. Her films have been screened and awarded at national and international film festivals. She currently teaches in the Film and New Media Program at New York University, Abu Dhabi.