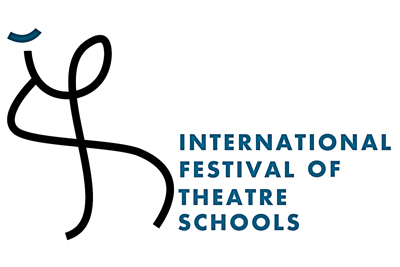 2023 | International Festival of Theatre Schools (IFTS)
International Festival of Theatre Schools (IFTS)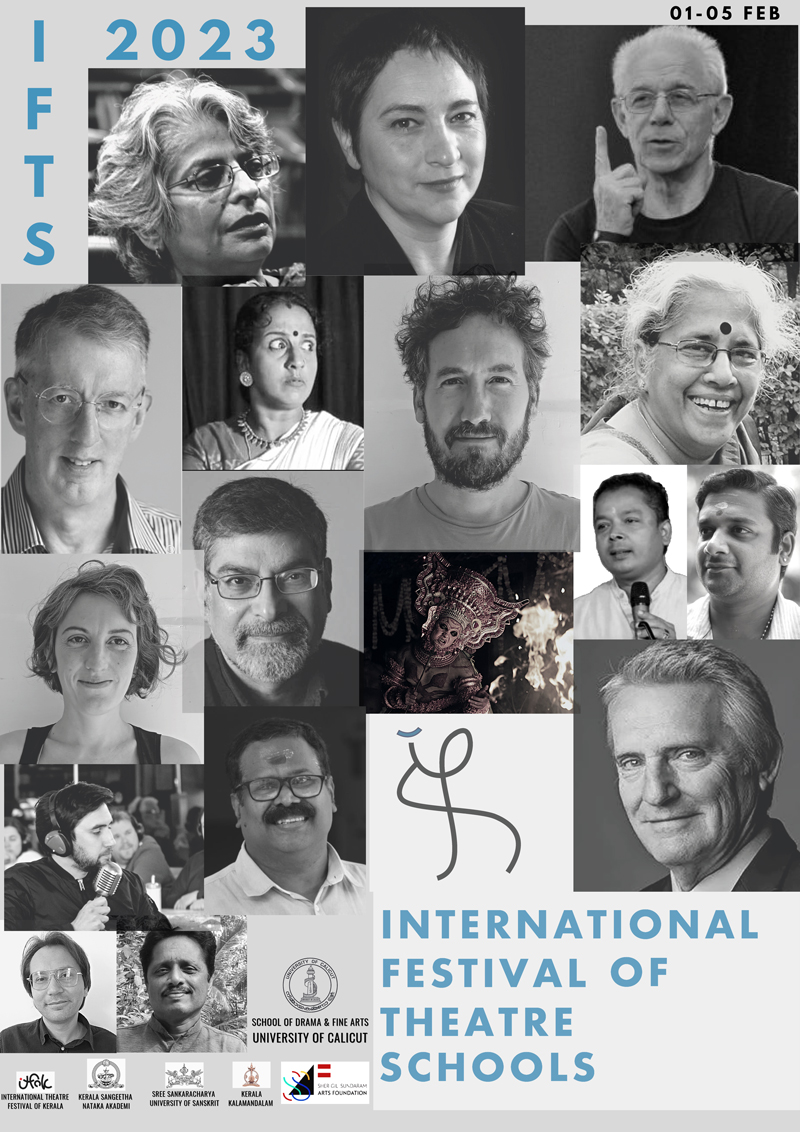 1–5 February, 2023 | School of Drama, University of Calicut, Thrissur
The International Festival of Theatre Schools (IFTS), an international congregation of academicians and practitioners in theatre, organised along with the International Theatre Festival of Kerala (ITFOK) was an initiative in association with the Kerala Sangeeta Nataka Akademi.
The festival took place from 1–5 February 2023 at the School of Drama campus prior to the opening of the ITFOK. Under the leadership of the School of Drama, University of Calicut, Thrissur, the event was organised in collaboration with Sree Sankaracharya University of Sanskrit and Kerala Kalamandalam. The festival was supported by the Sher-Gil Sundaram Arts Foundation (SSAF), Department of Higher Education and Kerala Sangeet Nataka Akademi.
The major objective of the festival was to fill the void of not having a platform to discuss the pertinent issues interwoven between practice and academia in the changing global context where academic institutions are generating majority of the practitioners through different academic programmes.
The first international festival of theatre schools in India, IFTS brought 15 internationally renowned pedagogues and involved premier educational institutions with theatre departments. The participating pedagogues included Anuradha Kapur, Carlos Cegarra Sanmartín, David Zinder, Dipendra Rawat, Giovanna Summo, Kalamandalam Kanakakumar, Kalamandalam Sivadas, Dr. Kalamandalam Krishnendu, Kalamandalam Sangeeth Chakyar, Kirti Jain, Natalia Martínez Sala, Neil Fraser, Peter Cooke, Philipp Sulim, Richard Allen and Rustom Bharucha.
Ten independent theatre practitioners were invited to attend the festival and participate in the workshops. The participants included Hazim Amaravila, Kannan Nayar, Kabani, Revathi Mol, Lukman Morayur, Jerin Joy, Suma C. Subramanian, Jithin George Mathew, Sam George and Muhammad Faisal. These practitioners from diverse backgrounds are highly active in their theatre activities, including theatre-making training and this facilitated the sharing of knowledge among regional contemporary theatre practitioners, in addition to those from academic circles.
The festival comprised of participants from three categories of theatre training institutes, namely the collaborative institutes, participant institutes, and the host institute. Kerala Kalamandalam, contributed four faculty members who engaged in the festival as resource persons. Moreover, students from Kerala Kalamandalam participated in cultural performances and demonstrations showcasing Panchavadyam, Koodiyattam, and Mohiniattam.
The participating institutes consisted of Dr. B.R. Ambedkar University, Christ University, Lovely Professional University, Jaffna University, University of Hyderabad, Sri Shankaracharya University of Sanskrit (SSUS), and Akademi Seni Budaya Dan Warisan Kebangsaan (ASWARA). In total, 18 faculty members from these institutions, accompanied by 46 students, took part in the International Festival of Theatre Schools 2023.
The host institute, the School of Drama and Fine Arts, University of Calicut in Thrissur played a central role, with all eight faculty members actively involved in the festival. Additionally, over 60 students from different batches contributed their talents and skills in organizing and managing the event along with their participation.
All participants shared their works on the theme of 'Orientation to theatre pedagogy' and it was interesting to see different perspectives on theatre pedagogies through workshops, productions, and paper presentations in symposiums with various traditional performing arts to media technologies from students (national and international) of different cultural backgrounds.
One of the unique features of the International Festival of Theatre Schools 2023 was its diverse range of workshops conducted by renowned resource persons. Covering specializations such as Kathakali, Chutti, Drama in Education, Design, Stage Combat, and more, these workshops offered the participants a learning experience and the chance to explore different aspects of the theatre world.
The International Festival of Theatre Schools 2023 provided a platform for various theatre productions, fostering knowledge-exchange in theatre-making and pedagogy. The staged school productions presented the talent and dedication of the participating institutions and also offered a platform for artistic growth, pushing the boundaries of theatrical expression. In essence, this festival brought together a diverse range of faculty and students from various theatre training institutes, fostering a vibrant and dynamic theatre experience.
An outstanding aspect of the festival was the opportunity for participants to connect with fellow theatre enthusiasts from the diverse cultural backgrounds. Engaging with like-minded individuals, exchanging ideas, and participating in creative discussions fostered a strong sense of community and unity among the attendees. The festival became a melting pot of cultures, ideas, and artistic expressions.
School of Drama and Fine Arts, University of Calicut, established in 1977 is a premier institution in India for academic training in drama and theatre. The institution offers Bachelor of Theatre Arts (BTA), Master of Theatre Arts (MTA), Masters in Music (MA Music) and MPhil/PhD.