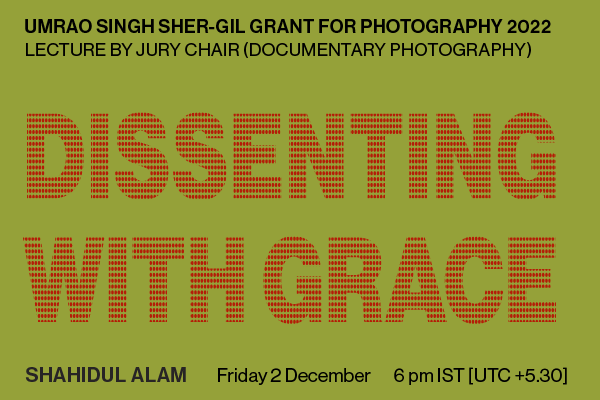 2022 | Lecture by Jury Chair | Umrao Singh Sher-Gil Grant for Photography (Documentary Photography)
Umrao Singh Sher-Gil Grant for Photography 2022
Lecture by Jury Chair (Documentary Photography)
Dissenting With Grace | Lecture by Shahidul Alam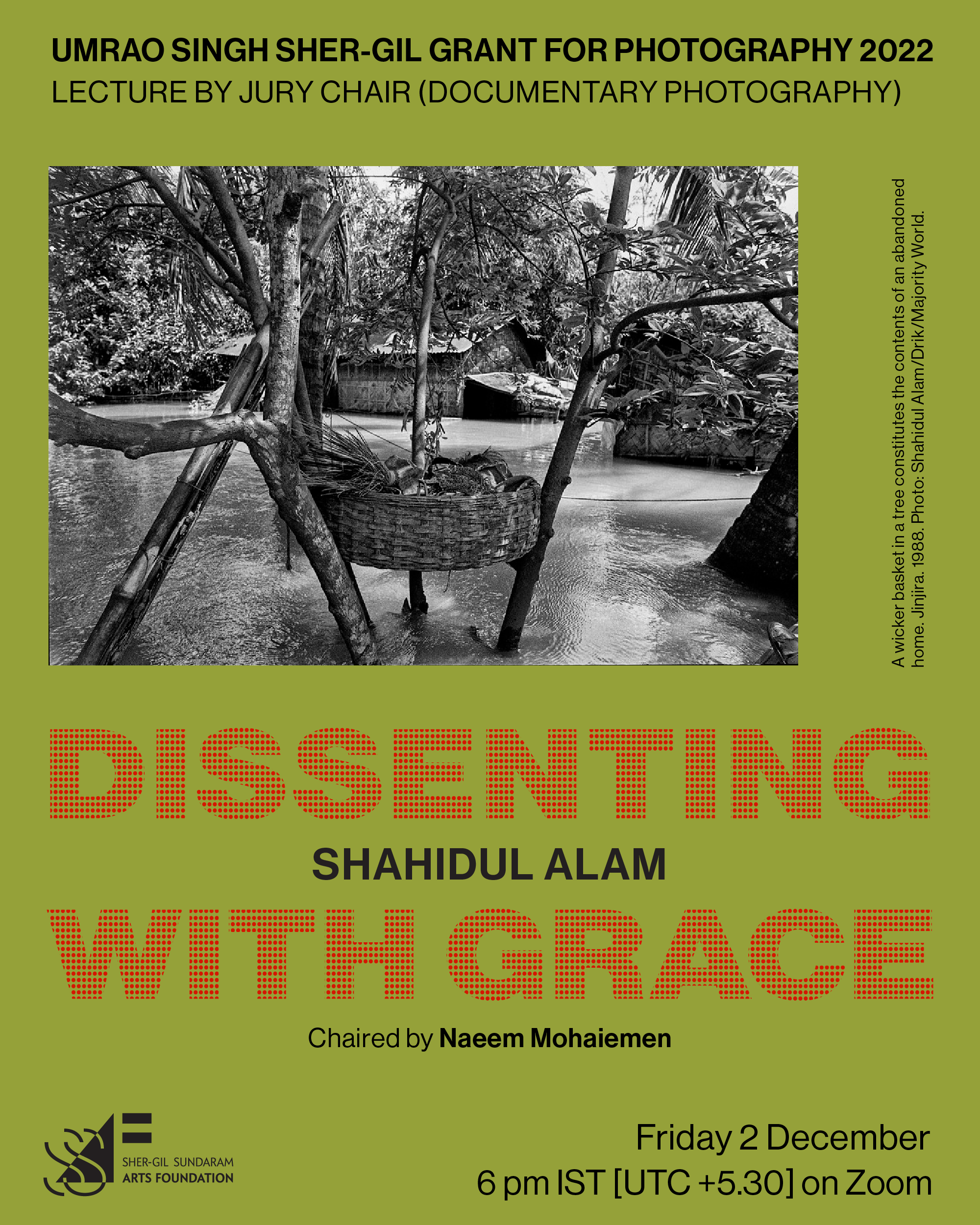 Lecture by Jury Chair, Shahidul Alam
Dissenting with Grace
The lecture was chaired by Naeem Mohaiemen.
Friday, 2 December 2022, 6 pm IST (UTC+ 5:30)
Dissenting with Grace
As journalists we need to feel the heat, to stand close to the fire, but then we risk getting burnt. Taking one step back makes one ineffective. Artists in repressive environments choose between producing 'safe' work which circulates openly or provocative work which lives underground. Producing provocative work that is visible requires a delicate balancing act. The trick is to be near enough to the heat to get singed but not burnt. The talk explores the strategies in trying to walk tall in an environment of fear.
Shahidul Alam received the highest national award given to Bangladeshi artists. He obtained a PhD in chemistry before switching to photography. Exhibited in MOMA, Centre Pompidou and Tate Modern, a professor at RMIT and Sunderland Universities and Honorary Fellow of Royal Photographic Society, Alam chaired the international jury of World Press Photo. John Morris of Life Magazine described his book My Journey as a Witness as 'the most important book ever written by a photographer'. The Tide Will Turn was listed in the New York Times' Best Art Books of 2020. Alam set up Drik, Pathshala, Chobi Mela, Majority World, Banglarights and DrikNews. He also introduced email to Bangladesh. Arrested in 2018 for criticizing his government but released on bail following a global campaign, he still faces fourteen years in jail if convicted. Alam is a National Geographic Explorer at Large, photographer, writer, curator and human rights defender. He was named TIME Magazine Person of the Year 2018.
Naeem Mohaiemen combines films, photographs, drawings, and essays to research socialist utopias, malleable borders, and fragile families. In Bangladesh, he exhibited at four editions of Chobi Mela (founded by Shahidul Alam), Latitude Longitude, Bengal Shilpalay, Abdur Razzaque Foundation, Bishaud Bangla, Dhaka University, Dhaka Art Summit, and Chittagong Press Club. He is editor of Chittagong Hill Tracts in the Blind Spot of Bangladesh Nationalism (Dhaka: Drishtipat 2010), author of Prisoners of Shothik Itihash (Basel: Kunsthalle Basel 2014) and Midnight's Third Child (Dhaka: Nokta 2023). Naeem is Associate Professor of Visual Arts at Columbia University, New York.