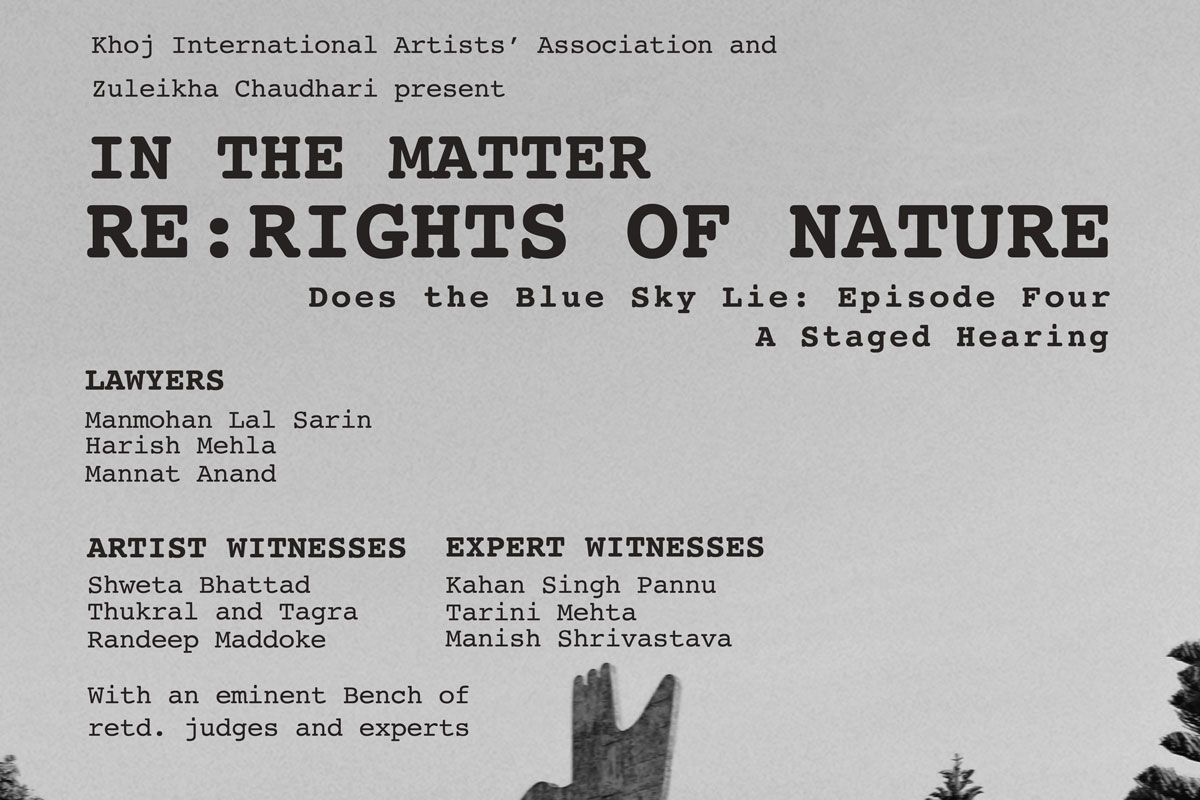 2023 | In the matter Re: Rights of Nature | Does the Blue Sky Lie: Episode 4, A Staged Hearing
In the matter Re: Rights of Nature
Does the Blue Sky Lie: Episode 4, A Staged Hearing
Date: Sunday, 5 March 2023 6 pm­–9 pm
Venue: Open Hand Monument, Chandigarh
Khoj International Artists' Association and Zuleikha Chaudhari's upcoming project In the matter Re: Rights of Nature takes the form of a fictional National Green Tribunal (NGT) hearing to explore the relationship between the air pollution of Delhi–NCR and the stubble burning phenomenon which occurs annually in the neighbouring states of Punjab and Haryana.
The project foregrounds Rights Of Nature as an expansion of Right to Life enshrined under Article 21 of the Constitution of India. Filed by Khoj International Artists' Association and Zuleikha Chaudhari, the fictional case indicts the Union of India through the Ministry of Environment, the respective State stakeholders, and a fictitious farmer's union for their inability to stop stubble burning in areas of Punjab, Haryana and Delhi. The hearing stages the arguments put forth by the three parties considering fundamental issues that place both the human and non-human in polluted ecosystems.
The hearing includes three practising lawyers, three subject expert witnesses, three retired judges as well as three artists. It follows the protocols, procedures and laws of the NGT. The project therefore entails opening and closing statements by the lawyers, examination and cross examination of witness testimonies, and the final judgement on the matter. The final judgement is unknown and will be delivered at the end of the hearing.
In the matter Re: Rights of Nature interrogates art as a means of knowledge production in the context of ecological interrelations. Can artists and artworks articulate the web of ecological, cultural, economic, historical and political relations as legitimate legal narratives in a judicial context?
Conceived by Khoj International Artists' Association and artist Zuleikha Chaudhari, in collaboration with lawyer Harish Mehla, the staged hearing is the fourth iteration of Khoj's programme Does the Blue Sky Lie?: Testimonies of Air's Toxicities. This performance is scheduled to be held on Sunday, 5 March 2023 at the Open Hand Monument in Chandigarh from 6 p.m. to 9 p.m. It will be a multilingual presentation in Hindi, Punjabi and English.