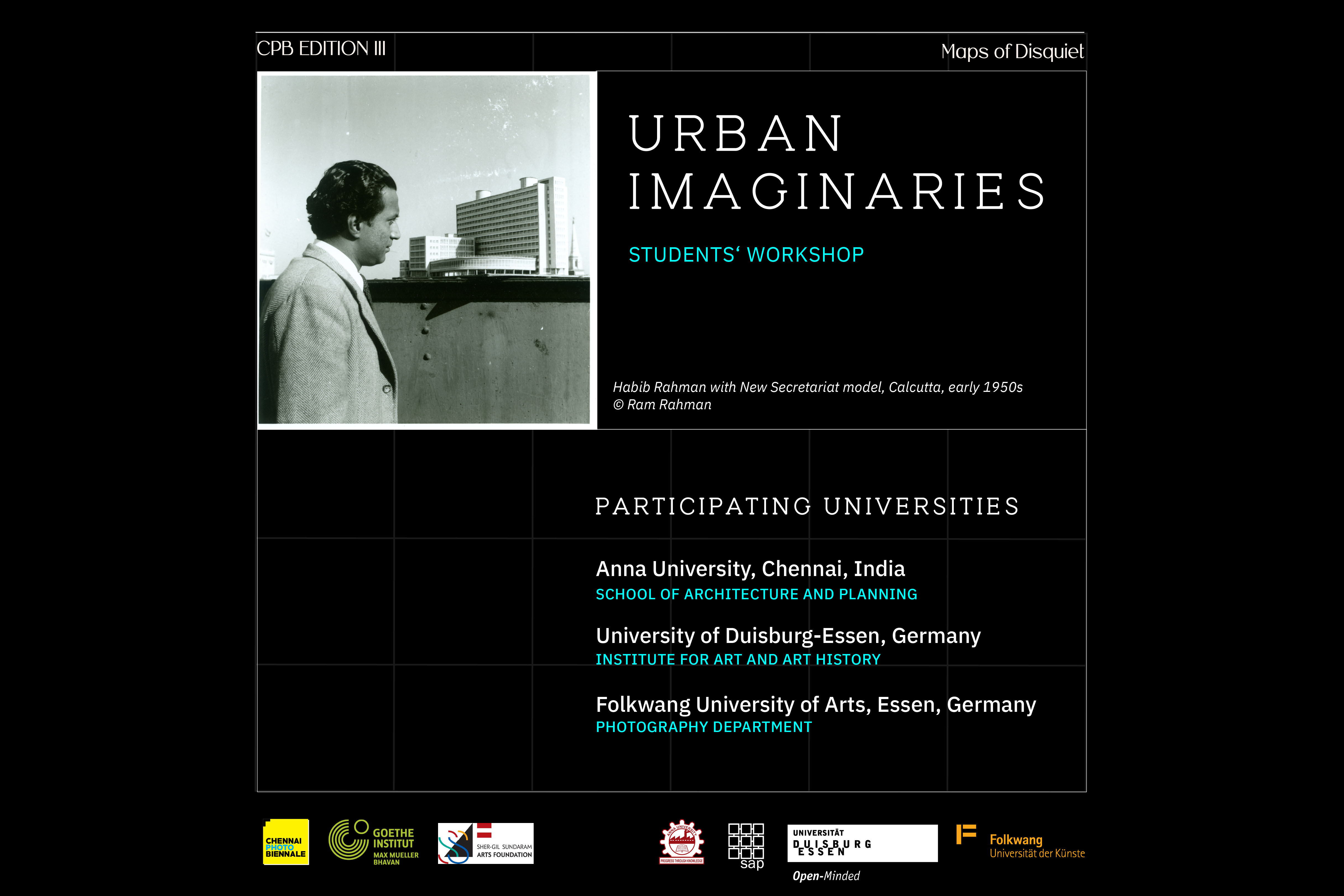 2021 | 'Urban Imaginaries', Students' Workshop and Project, Chennai Photo Biennale
'Urban Imaginaries', Students' Workshop and Project, Chennai Photo Biennale
Conceived by Kerstin Meincke and Bhooma Padmanabhan, co-curators, Chennai Photo Biennale
The international workshop was held online and brought together students of architecture, art history and photography from Indian and German universities. The participating universities were Anna University, Chennai, India (School of Architecture and Planning), University of Duisburg-Essen, Germany (Institute for Art and Art History), and Folkwang University of Arts, Essen, Germany (Photography Department).
The participating students explored the topic of "urban imaginaries" – one of the key topics of Chennai Photo Biennale III: Maps of Disquiet – through close readings of architectural manifestations both in India and in Germany, that can be compared in their function as symbols for the new society after WWII or in the aftermath of colonialism.
In conversation with the curators, guest scholars and artists – Katja Stuke, Nico Joana Weber, Oliver Sieber, Ram Rahman, Thirupurasundari Sevvel, Tim Rieniets and Yuvan Aves – the students explored new forms and methods of engaging with questions about culture, memory, heritage, history and development that have been central in shaping our cities today. Besides approaching new topics, the students deepened their methodological knowledge by learning more about mapping strategies, while also developing such exercises themselves, and exploring transcultural avenues of thought through the experience of international working groups. Stuke, Sieber and Aves further mentored the students in their research. Parts of the programming were open to the public, including public lectures by the participating artists on the first two days of the workshop, 19th and 22nd November 2021.
About the Chennai Photo Biennale Foundation (CPBF):
The CPBF is a non-profit organisation that works towards building a community that fosters creative expression through visual arts. CPBF is committed to expanding the consciousness about photography as an art form through exhibitions, socio-cultural discussions and education programs. It actively works with less privileged groups of students and communities and offers its platform as an inclusive and collaborative learning and exhibition space for artists, enthusiasts and art lovers to come together from across the world. The Foundation conducts year round programs and every two years hosts a public art international festival called the Chennai Photo Biennale.