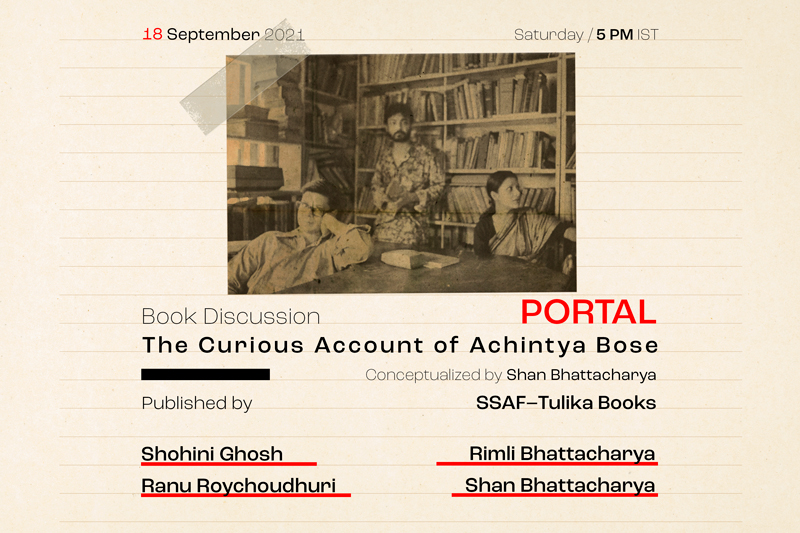 2021 | Book Discussion | Portal: The Curious Account of Achintya Bose
Book Discussion
Portal: The Curious Account of Achintya Bose
Shohini Ghosh | Rimli Bhattacharya | Ranu Roychoudhuri | Shan Bhattacharya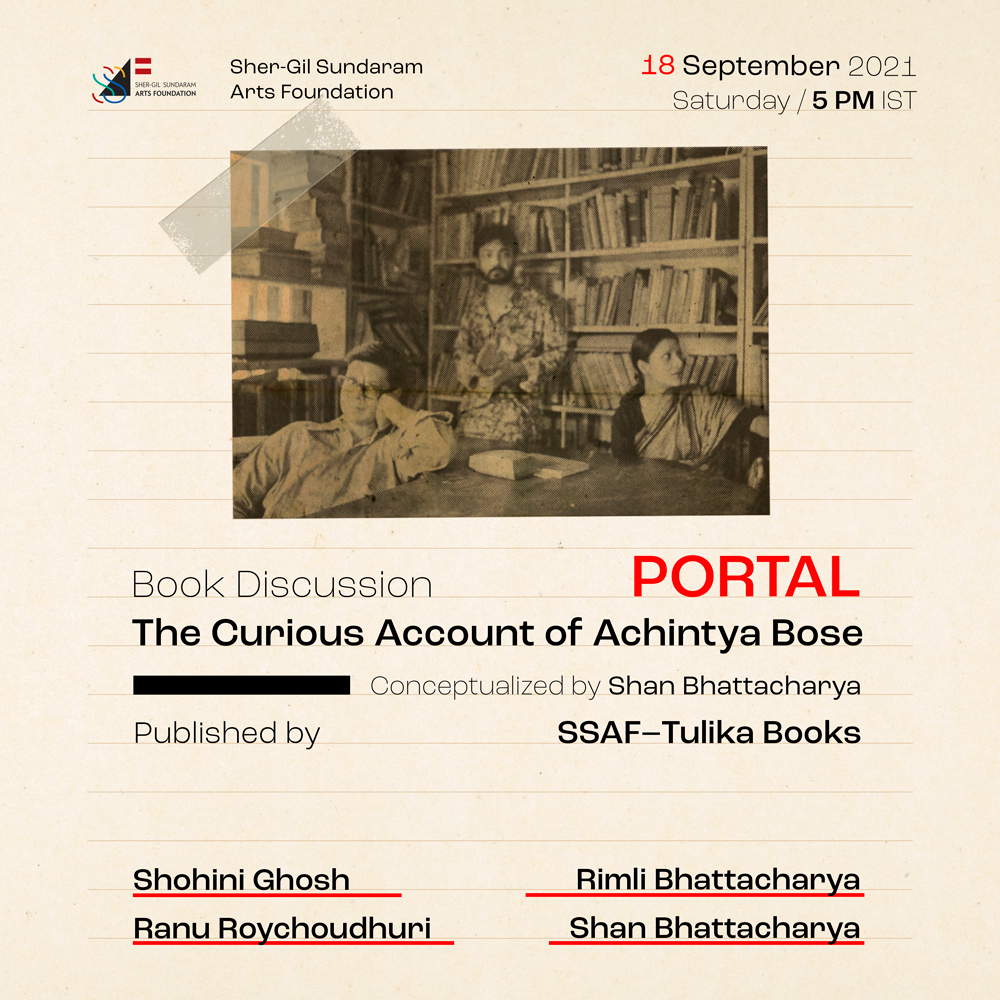 Portal: The Curious Account of Achintya Bose
Conceptualized by Shan Bhattacharya
Published by SSAF–Tulika Books
Portal: The Curious Account of Achintya Bose presents the personal diary of Achintya Bose, the owner of a small photography studio in Calcutta, India, maintained sporadically from 1994 to 1996 before his sudden unexplained disappearance. The diary is a fictional 'found archive' that contains his collection of photographic prints, letters, torn pages from books, newspaper and magazine cuttings, declassified police records, polaroids and print advertisements obtained from different sources. Through these documents spanning the twentieth century, he attempts to trace photographic 'evidence' and information about an elusive woman who seemingly does not age through a century. Mr Bose's search is also a journey through the local history of vernacular photography and regional publications that reflect popular culture, politics, fashion, design, advertising and other iconography, and their transformations over time.
The Photo of Another:
A Conversation on Shan Bhattacharya's Portal
Malavika Madgulkar
The story begins with Shan Bhattacharya's visit to a photo studio in Calcutta, abandoned and in a state of disrepair since the mysterious and sudden disappearance of its owner, Achintya Bose, in 1997. While rummaging around with his friends for vintage …
Read More
Shohini Ghosh is Professor and Officiating Director of the AJK Mass Communication Research Centre, Jamia Millia Islamia. She is the author of Fire: A Queer Classic (Vancouver: Arsenal Pulp Press, 2010) and the director of Tales of the Night Fairies (2002) a documentary on the sex-workers rights movement. She writes on cinema, contemporary media, gender and sexuality.
Rimli Bhattacharya trained in Comparative Literature at Jadavpur and Brown Universities, and currently teaches in the Department of English, University of Delhi. She works in the fields of gender and performance, children's literature and primary education with an emphasis on visual culture. Teaching and research interests include film and the expressive arts across a range of genres and languages. Recent publications include The Dancing Poet: Rabindranath Tagore and Choreographies of Participation (2019), Public Women in British India (2018) and a translation of Bibhutibhushan Bandyopadhyay's novel Restless Waters of the Ichhamati (2018). "Stitching Sails: Rising Oceans" is an ongoing multimedia project on the Indian Ocean.
Ranu Roychoudhuri is Assistant Professor in the Department of Humanities and Social Sciences, Indian Institute of Technology Guwahati. She is a historian of modern and contemporary art in South Asia with a focus on photography, print history, intellectual history of art, art historiography, and postcolonial studies. She has published in peer-reviewed journals and edited volumes, and is presently working on her first monograph. Her research has been supported by the Foundation for Indian Contemporary Art, Yale Institute of Sacred Music, and several centers at The University of Chicago from where she received her doctoral degree.
Shan Bhattacharya is a self-taught artist working with photographs and video, based in Kolkata, India. He was the first recipient of the Umrao Singh Sher-Gil Grant for Photography, instituted by the Sher-Gil Sundaram Arts Foundation, in 2016. His text-and-image narrative work Portal: The Curious Account of Achintya Bose was co-published by SSAF–Tulika Books in 2020. He often collaborates with Kolkata-based independent jazz bands to produce music videos and photographs.