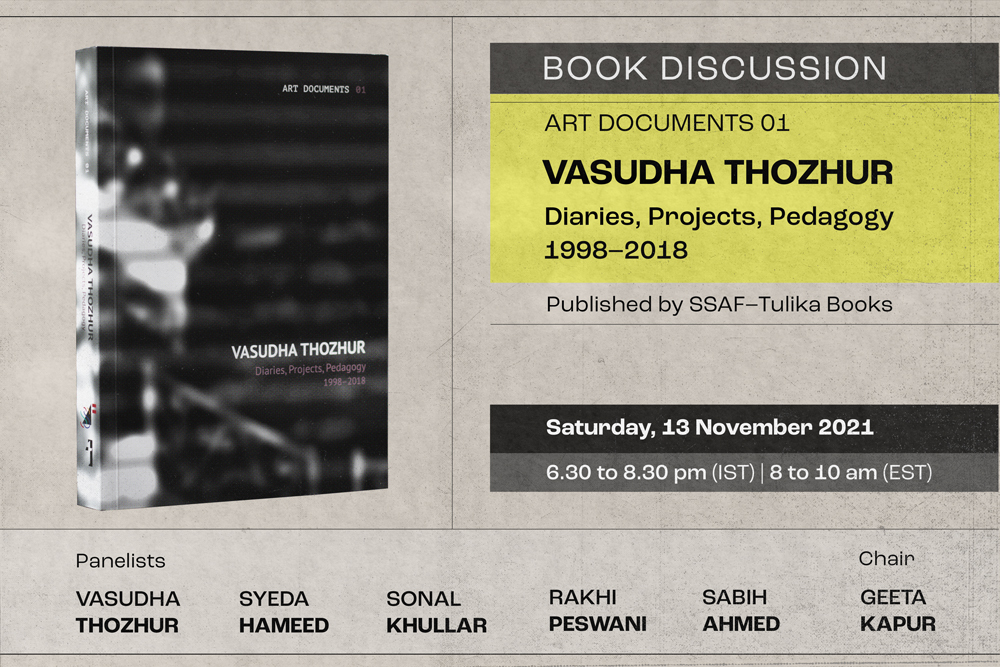 2021 | Book Discussion | Art Documents 01 | Vasudha Thozhur: Diaries, Projects, Pedagogy 1998–2018
Book Discussion
Art Documents 01 | Vasudha Thozhur: Diaries, Projects, Pedagogy 1998–2018
Geeta Kapur | Vasudha Thozhur | Syeda Saiyidain Hameed | Sonal Khullar | Rakhi Peswani | Sabih Ahmed
Saturday, 13 November 2021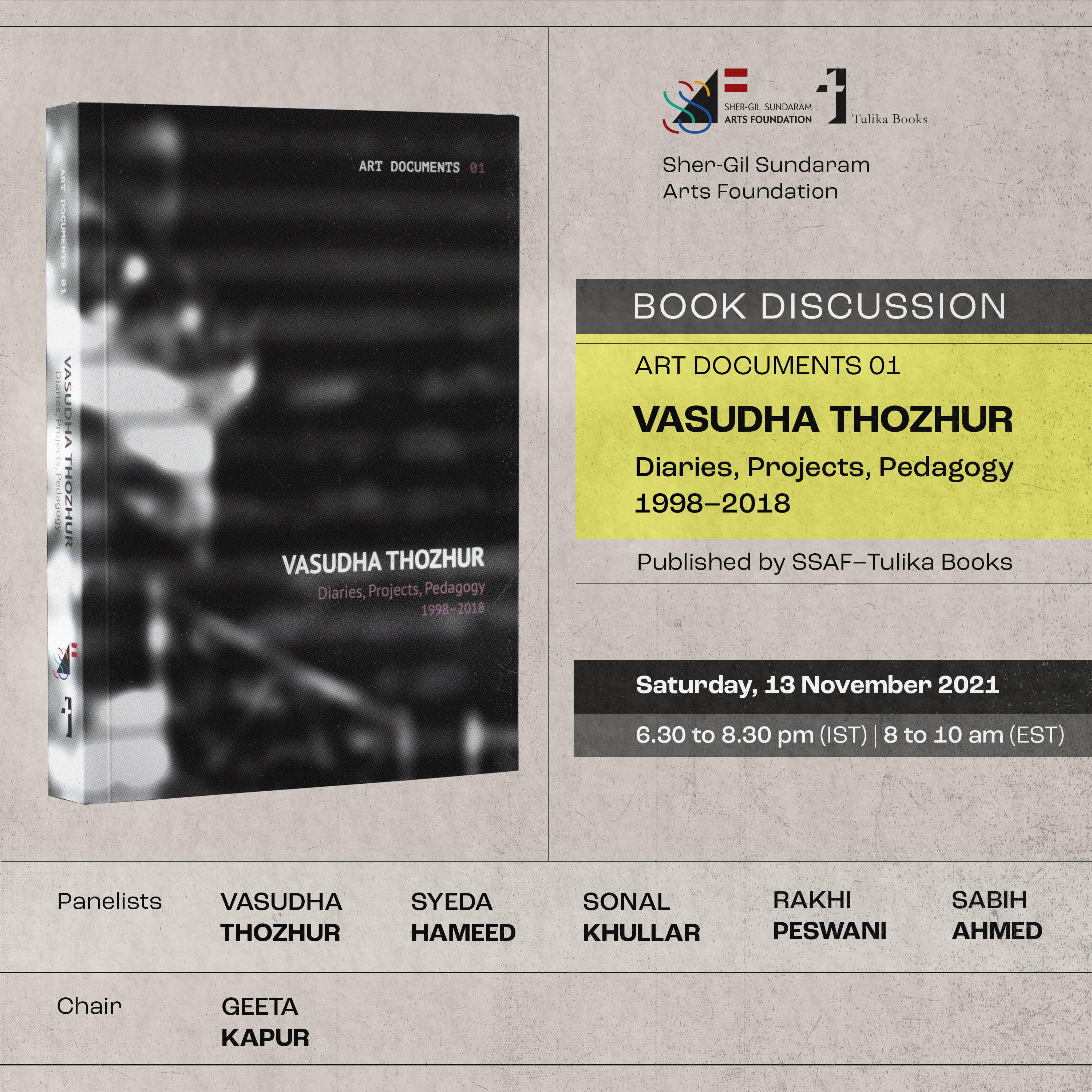 Art Documents is conceived as a series of montaged text and image documents, at once archival, contemporary and contextual. Creatively introduced and edited, these books seek to present multivalent forms of discourse where there is no single thesis, and no necessary convergence of the vectors released in the process of inquiry. Geeta Kapur is the series editor of Art Documents.
This book, based on artist Vasudha Thozhur's project journals and pedagogical texts, is the first in the series. It is, in her own words,
… a compilation of texts that were written as a response to different compulsions. As the title indicates, it contains diary entries, seminar papers, catalogue essays and excerpts from a series of nine books related to an extended project undertaken between 2002 and 2012.  Woven together, as they are, it is hoped that they create a narrative that exceeds the sum of its parts. I write, as I paint, to break the skin of the everyday, to create ruptures that provide access to dimensions of life as lived through the practice of art. Diaries and journals are doorways to a kind of becoming that leaves little scope for obfuscation or concealment: they provide loops that one can enter at any time and still feel a sense of being in the present, and in truth – despite its mutations and uncertainties.
Geeta Kapur is a Delhi-based critic and curator. Her books include Contemporary Indian Artists (1978), When Was Modernism: Essays on Contemporary Cultural Practice in India (2000), Critic's Compass: Navigating Practice (forthcoming). One of the founder-editors of Journal of Arts & Ideas, she was an advisory board member of Third Text and Marg. She is a Trustee of the Sher-Gil Sundaram Arts Foundation, and is series editor of Art Documents (SSAF–Tulika Books). Her curatorial work includes exhibitions of Indian art in Delhi, Johannesburg, London, Bombay, Berlin.
Vasudha Thozhur is Professor, Department of Art and Performing Arts, Shiv Nadar University, Dadri, Uttar Pradesh. Her practice is interdisciplinary but primarily rooted in painting. Besides exhibitions and residencies, she is involved with institutional work related to art education. Her research project, 'The Himmat Workshops', looked at ways of relating art practice to ground and other realities with particular reference to conflict zones. It involved collaborating with Himmat, an organization based in Ahmedabad, between 2002 and 2007. A compilation of the outcome, Beyond Pain: An Afterlife, was exhibited in Mumbai in 2013 and New Delhi in 2015.
Syeda Saiyidain Hameed is former Member of the Planning Commission of India and of the National Commission for Women. She is widely recognized for her engagement in public affairs and social issues, especially for women, minorities and peace. She is a founder member of the Muslim Women's Forum (MWF) and Women's Initiative for Peace in South Asia (WIPSA). Her major publications include Bread Beauty Revolution: Khwaja Ahmad Abbas (2015),Maulana Azad, Islam and the Indian National Movement (2013), Beautiful Country: Stories from Another India (2012),They Hang: 12 Women in my Portrait Gallery (2006).She was awarded the Padma Shri in 2007.
Sonal Khullar is W. Norman Brown Associate Professor of South Asian Studies in the Department of the History of Art at the University of Pennsylvania. Her first book, Worldly Affiliations: Artistic Practice, National Identity, and Modernism in India, 1930–1990 (University of California Press, 2015), received the Bernard S. Cohn Book Prize of the Association of Asian Studies in 2017. Her forthcoming books include The Art of Dislocation: Conflict and Collaboration in Contemporary Art from South Asia (University of California Press) and an edited volume, The Arts of the Book in South Asia (University of Washington Press).
Rakhi Peswani completed a Master's degree (MFA) in Ceramic Sculpture (2003) from the Faculty of Fine Arts, M.S. University, Baroda, Gujarat. She is currently an Associate Professor at the Visual Arts Department, Ashoka University, Sonipat. Rakhi's art practice explores various discursive and material aspects of crafts; she is interested in the affective possibilities of materiality and labour as well as the contexts or locations these create in contemporary image making, and has recently been examining the environmental and pedagogical ties associated with crafts based practices.
Sabih Ahmed is Associate Director and Curator at the Ishara Art Foundation, Dubai. His curatorial work and research focus on modern and contemporary art of South Asia through diverse itineraries, languages and inter-disciplinary formations. Prior to Ishara, Ahmed was Senior Researcher at Asia Art Archive, visiting faculty at the Ambedkar University Delhi and involved in various independent curatorial projects. He serves on the Advisory Board of Sher-Gil Sundaram Arts Foundation. His writings have been published in the Sarai Reader, Marg, Mousse Publications, The Whitworth, and oncurating.