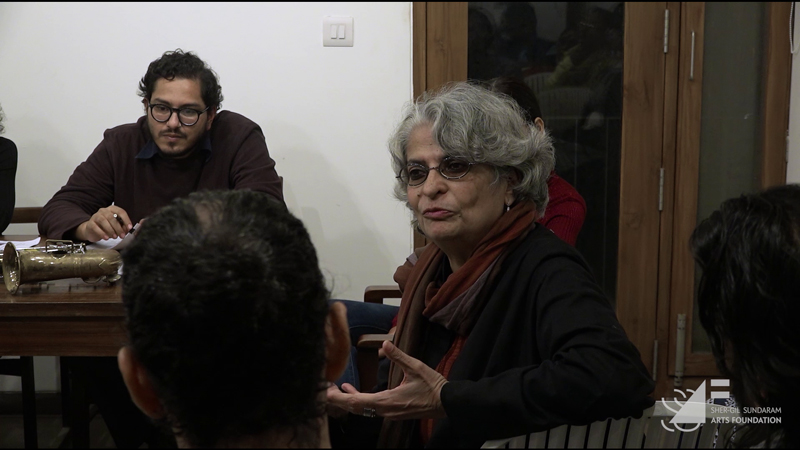 2019 | Discussion on Buying Brass
Discussion on Buying Brass
Concept by Anuradha Kapur, Purav Goswami and Priyanka Pathak
Artists: Jilmil Hajarika and Samara Chopra
27-28 November 2019 | New Delhi
These discussions centred on Bertolt Brecht's ruminations on theatre and its social and aesthetic responsibilities in the work Buying Brass, also known as Messingkauf Dialogues.
Brecht's Buying Brass unfolds as a series of debates between a Dramaturg, an Actor and a Philosopher about how to make theatre speak to us today. As an allegory, Brecht suggests that we may go to a brass band not to buy a trumpet but to buy the brass itself. The focus on the raw material that is used for one specific purpose when it could be used for others sets up his foundational argument about repurposing. The only requirement, as Brecht puts it, is a critical and imaginative engagement with the material's personal and social history. "Remember that we have met together in a dark period…", Brecht writes in the text. This sets the tone for everything the characters discuss and argue about, because ultimately his theories, much like his art, were informed by his politics.
This conversation was an attempt to deeply engage with Brecht's theories, and in doing so, reveal the relevance of his past to our present. While the times have changed, and so too the specific political and aesthetic needs, the gist of Brecht's treatise continues to have particular resonance.
Anuradha Kapur is a theatre-maker, scholar and teacher. Almost all her theatre works have been cross-disciplinary collaborations.
Purav Goswami is a freelance theatre artist based in Delhi. His area of interest is devising dramaturgy that embraces the notion of hybridity in theatre.
Priyanka Pathak graduated from the National School of Drama, New Delhi, in 2013, with specialization in theatre technique and design. A practitioner based in Delhi, she is currently pursuing her PhD in Theatre and Performance Studies at Jawaharlal Nehru University.
Jilmil Hajarika graduated from the National School of Drama, New Delhi, in 1996, with specialization in acting. Her work has spanned the mediums of theatre, film and television, and she has worked with some of the leading names in all these mediums. Currently, she is a visiting faculty in National School of Drama, New Delhi.
Samara Chopra aka Begum X is a singer and a yoga therapist specializing in one-on-one practice. She is the lead singer of the band The Ska Vengers, and co-owner of Bass Foundation Roots (BFR) Sound System along with Delhi Sultanate. She has also worked in television as an anchor in the past and has recently made forays into movement art.