Umrao Singh Sher-Gil Grant for Photography 2022
Umrao Singh Sher-Gil Grant for Photography, 2022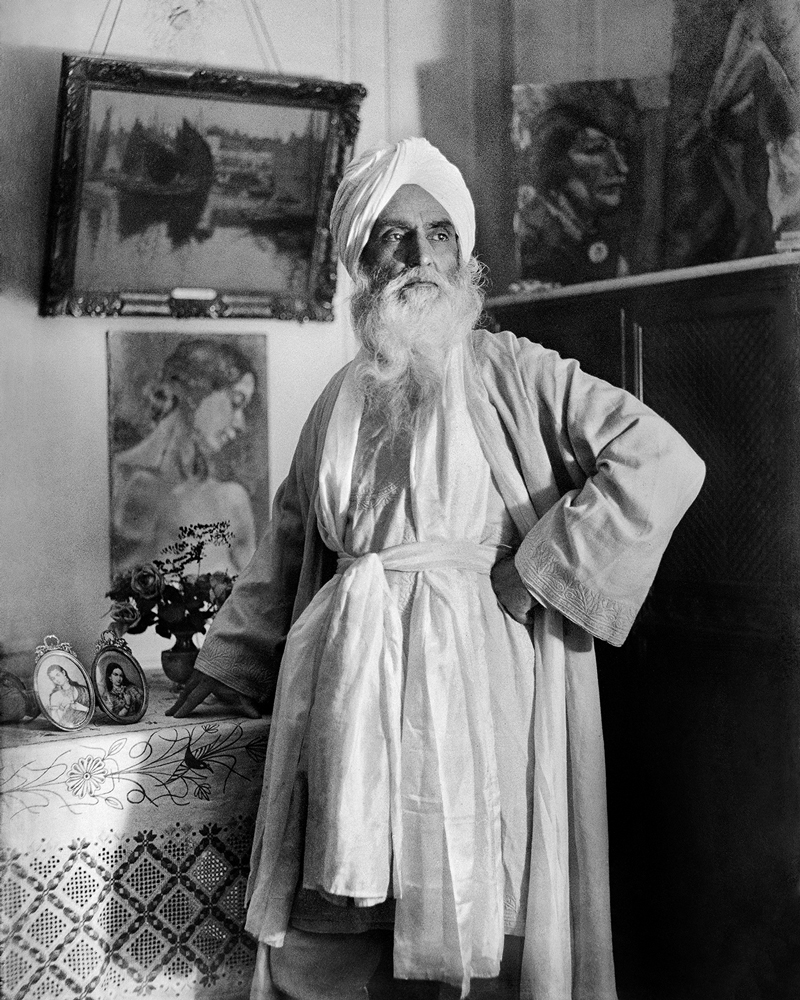 Umrao Singh Sher-Gil
© UMRAO SINGH SHER-GIL ESTATE
Sher-Gil Sundaram Arts Foundation (SSAF) is pleased to announce the sixth edition of the Umrao Singh Sher-Gil Grant for Photography.
Umrao Singh Sher-Gil (1870–1954) was a scholar of Persian and Sanskrit who spent a contemplative life in pursuit of knowledge of the arts and the philosophy of religion. His photographic practice, in keeping with his reclusive nature, was a private affair and his principal subjects were his family and himself. In 2007, a retrospective exhibition of Umrao Singh's modern and vintage prints was held at the Rencontres d'Arles photography festival in France followed by exhibitions at the National Gallery of Modern Art in Delhi and Mumbai. This retrospective having garnered critical attention, Umrao Singh was recognized as a photographer of considerable importance. His self-portraits span almost sixty years and make up a unique archive. He is now regarded as a pioneering figure of the mise-en-scène or staged photography in India.
Established in 2015, the Umrao Singh Sher-Gil Grant for Photography recognizes a photographer's commitment to the 'constructed' image as well as documentary photography projects. In 2022, SSAF has pledged two annual photography grants of INR 3,00,000 each in Umrao Singh's name to encourage independent voices in photography. The Umrao Singh Sher-Gil Grant for Photography 2022 will be awarded to two projects, each reflecting on one of the following genres:
The Constructed Image
Documentary Photography
The grant is intended to assist photographers who have started a project and need financial assistance to complete their work. The applicants for the two grants within the Umrao Singh Sher-Gil Grant for Photography 2022 have been selected by twenty nominators from across the country based on the following eligibility criteria:
The grant is for Indian nationals who reside in India.
There is no age limit for the applicants.
Individual photographers as well as collaborative projects can be nominated.
Nominees must not hold any other fellowship/grant for the proposed project.
Nominees should apply with a project that is currently in progress and for whose completion financial support is required.
Nominees must confirm in writing that the proposed project has not been exhibited in a commercial gallery in India or abroad. Projects which have already been exhibited will not be considered. Exposure of works from the proposed project on social media platforms is acceptable.
The selection process of the grant:
SSAF will independently administer the grant and jury process.
Two juries (of three members each) will each select one grantee for their category.
Jury | Grant for The Constructed Image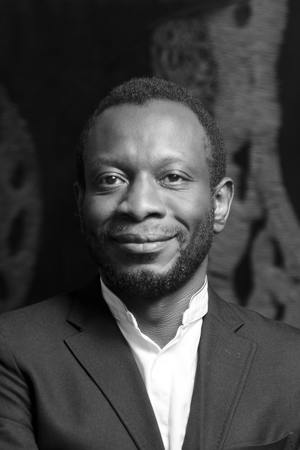 Azu Nwagbogu (Jury Chair) is the Founder and Director of African Artists' Foundation (AAF), a non- profit organisation based in Lagos, Nigeria. Nwagbogu was elected as the Interim Director of the Zeitz Museum of Contemporary Art in South Africa, from June 2018 to May 2019. Nwagbogu also serves as Founder and Director of LagosPhoto Festival, an annual international arts festival of photography that brings leading local and international photographers in dialogue with multifaceted stories of Africa.
He is the creator of Art Base Africa, a virtual space to discover and learn about contemporary African Art. Nwagabogu served as a juror for the Dutch Doc, POPCAP Photography Awards, the World press Photo, Prisma Photography Award (2015), Greenpeace Photo Award (2016), New York Times Portfolio Review (2017-18), W. Eugene Smith Award (2018), Photo Espana (2018), Foam Paul Huf Award (2019), Wellcome photography prize (2019), Social Impact Art Prize (2020), and is a regular juror for organisations such as New York Times, Lensculture and Magnum.
He was nominated as Curator for the Prix Decouverte Rencontres d'Arles 2014, Photoquai 2015, Photolux Festival 2015 and Breda Photo (2018). Other curatorial achievements include 'This is Lagos' featuring the work of Emeka Ogboh (2009), 'Dey Your Lane! Lagos Variations' for the Bozar Museum in Bruxelles (2016), 'Tear my Bra' for the Rencontres d'Arles (2016), 'Samuel Fosso: An African Odyssey' for Photo Espana in Madrid (2018), James Ostrer's 'Johnny Just Came' exhibition for Gazelli Art House, London (2018) and 'Colomental' as part of the Staatliche Museen zu Berlin program titled 'Hello World' which confronted the idea of broadening a Museums scope beyond the Western to incorporate trans- cultural and non-western artistic tendencies, in 2018. In 2019, He curated two major exhibitions during his tenure as the Director/ Chief curator of Zeitz Mocaa: 'Still here tomorrow to high five you yesterday' and 'Why should I Hesitate: Putting Drawing to Work'.
For the past 20 years, he has curated private collections for various prominent individuals and corporate organisations in Africa and the world. Nwagbogu is a curator with a special interest in future museology.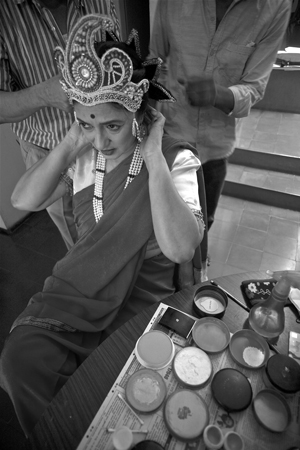 Pushpamala N has been called 'the most entertaining artist-iconoclast of contemporary Indian art'. In her sharp and witty work as a photo, video and live performance artist, sculptor, writer and curator, she seeks to subvert the dominant discourse. She is known for her strong feminist work and for her rejection of authenticity and embracing of multiple realities. Starting off her career as a sculptor, Pushpamala began using photography in the mid-1990s, creating tableaux and photo-romances in which she casts herself in various roles. Interested in history and the idea of cultural memory, she cites a wide range of references in her series of masquerades where she simultaneously inhabits and questions familiar frames from art history, photography, film, theatre and popular culture, thereby placing herself as the artist at the centre of social and political inquiry.
She has exhibited widely in India and internationally, and her works are in important collections such as Tate Modern (London), Museum of Modern Art (New York), Centre Pompidou (Paris), Art Gallery of New South Wales (Sydney), Royal Ontario Museum (Toronto), Kiran Nadar Museum of Modern Art (Delhi), National Gallery of Modern Art (Delhi) and Museum of Art and Photography (Bengaluru). Her interest in debate and discussion led her to found a fictitious institution she calls Somberikatte (Idler's Platform in Kannada) which she uses as a platform to organize lectures and seminars. In 1999 she curated, organized and crowd-funded a large public exhibition of site-specific works with three artists working on important historical sites in Bengaluru called Sthalapuranagalu (Place Legends). In 2016 she organized an international seminar: 'Mysore Modernity, Artistic Nationalism and the Art of K. Venkatappa', on the early Karnataka modern artist, at the NGMA, Bengaluru. The book on the artist co-edited by the artist and Deeptha Achar will soon be published by Routledge. She was the artistic director and curator of the Chennai Photo Biennale, Fauna of Mirrors, 2019. She lives and works in Bengaluru.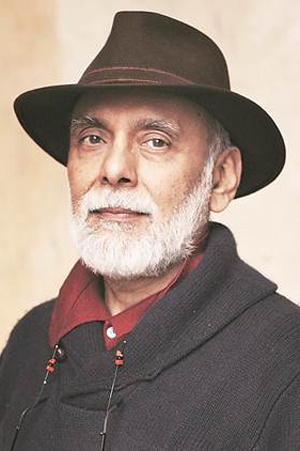 Born in Patiala, Punjab in 1953, Ranbir Kaleka studied Painting at the College of Art, Chandigarh. He spent the next few years teaching art before leaving for London on a Charles Wallace Scholarship in 1985 to study at the Royal College of Art. Ranjit Hoskote writes: 'Across the four and a half decades of his artistic activity, [Kaleka] has produced both a remarkable body of paintings, vibrant with phantasmagoria and epic disquiet, as well as a body of trans-media works that combine conceptualist sophistication with a calibrated opulence of image.'
Kaleka has participated in exhibitions across a range of major galleries and museums around the world. Some of his recent shows include Goethe Institut Max Mueller, Mumbai (2022); Palazzo Madama, Turin, Italy (2021–2022); Kiran Nadar Museum of Art, New Delhi (2021); Hong-gah Museum, Taipei, Taiwan (2021); Vadehra Art Gallery, New Delhi (2021); Vancouver Art Gallery (2020); India Habitat Centre, New Delhi (2020); the Fotofest 2018 Biennial, Houston, Texas (2018); and Asia Contemporary Art Week, Dubai (2018), among others. He has also exhibited at Volte Gallery, Mumbai (2012); Tel Aviv Museum of Art, Israel (2012); 4th Guangzhou Triennial (2011); Singapore Art Museum (2011); Prague Biennale 5 (2011); Lalit Kala Akademi, New Delhi (2011); MOCA Taipei, Taiwan (2010); SESC Pompeia, Sao Paulo, Brazil (2010); Bose Pacia Gallery, New York (2009, 2008, 2005); Mori Art Museum, Japan (2008); Sydney Biennale (2008); Museum of Fine Arts, Bern, Switzerland (2007); Spertus Museum, Chicago (2007); the 51st Venice Biennale (2005);  and Kunsthalle, Vienna, Austria (2002), to name a few.
In 2007, the Spertus Museum in Chicago commissioned Kaleka to create a Holocaust memorial. The site-specific video installation is titled Consider, and consists of two projections – a painting and an audio narrative of oral testimony from Auschwitz.
Kaleka was awarded the National Award by the President of India at the 22nd National Exhibition of Art organised by the Lalit Kala Akademi in 1979 in Delhi. In 1986, he received the Sanskriti Award. Kaleka lives and works in New Delhi.
Jury | Grant for Documentary Photography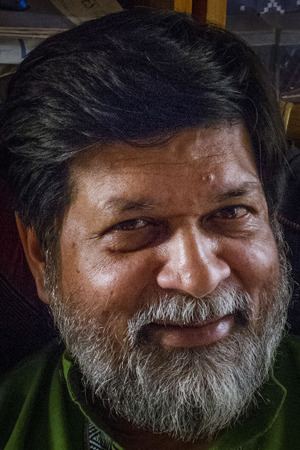 Shahidul Alam (Jury Chair) received the highest national award given to Bangladeshi artists. He obtained a PhD in chemistry before switching to photography. Exhibited in MOMA, Centre Pompidou and Tate Modern, a professor at RMIT and Sunderland Universities and Honorary Fellow of Royal Photographic Society, Alam chaired the international jury of World Press Photo. John Morris of Life Magazine described his book My Journey as a Witness as 'the most important book ever written by a photographer'. The Tide Will Turn was listed in  the New York Times' Best Art Books of 2020. Alam set up Drik, Pathshala, Chobi Mela, Majority World, Banglarights and DrikNews. He also introduced email to Bangladesh. Arrested in 2018 for criticizing his government but released on bail following a global campaign, he still faces fourteen years in jail if convicted.
Alam is a National Geographic Explorer at Large, photographer, writer, curator and human rights defender. He was named TIME Magazine Person of the Year 2018.
Photo by Rahnuma Ahmed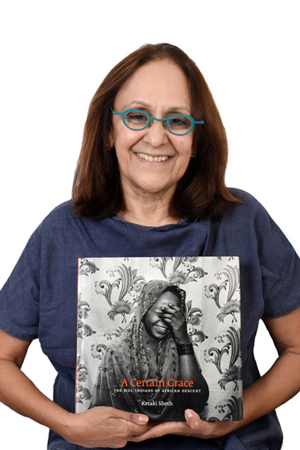 Ketaki Sheth has been a photographer for thirty-five years. She has published four books including the most recent PHOTO STUDIO, her first in colour. She has been exhibited all over the world including NGMA, New Delhi; National Portrait Gallery, London; Emile Zola Gallery, Aix En Provence amongst others. Her works reside in all the major museums including KNMA, Delhi; MOMA, NYC; The Tate Modern, London; Philadelphia Museum of Art; Metropolitan Museum amongst others. She won the Higashikawa award in Japan for best foreign photographer. She lives in Mumbai.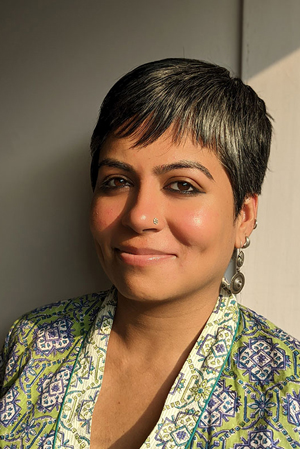 Tanvi Mishra works with images as a photo editor, curator and writer based in New Delhi, India. Among her interests are South Asian visual histories, research methodologies in image-making as well as the notion of fiction in photography, particularly in the current political landscape. Until recently, she was the Creative Director of The Caravan, a journal of politics and culture published out of Delhi. She is part of the photo-editorial team of PIX, a South Asian publication and display practice. She works as an independent curator and has been part of the curatorial teams of Photo Kathmandu and Delhi Photo Festival, as well as the upcoming edition of BredaPhoto. Her writing on photography has been published on various platforms including Aperture, FOAM and The Caravan. She has served on multiple juries, including World Press Photo, Chennai Photo Biennale Photo Awards and the Catchlight Global Fellowship. She has also been a mentor for the Women Photograph program and is part of the first international advisory committee of World Press Photo.