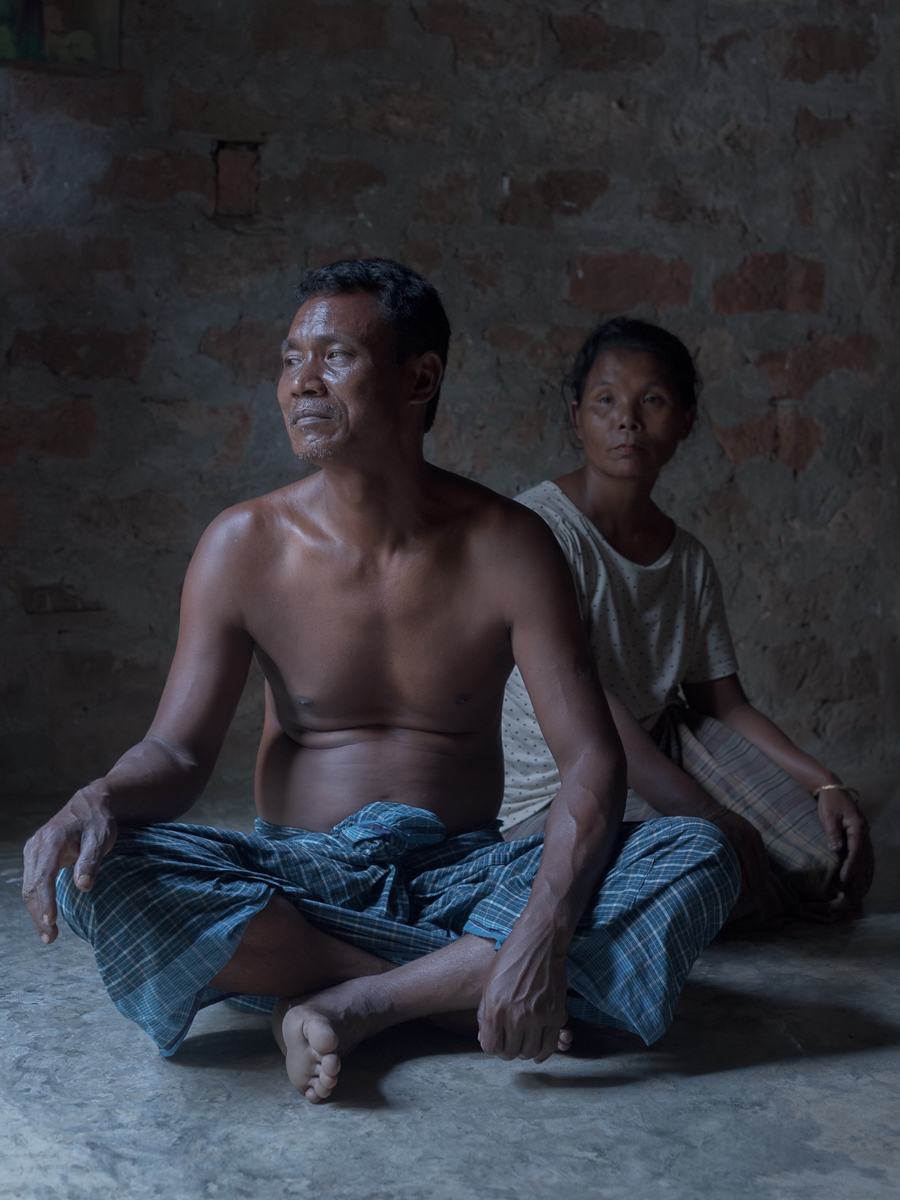 2022 | Documentary Photography Grant | Prakash Bhuyan
Umrao Singh Sher-Gil Grant for Photography 2022
Documentary Photography
Grant Recipient
PRAKASH BHUYAN
Title of the Project
ACROSS
Artist Statement
The Indo–Bangla borderland in the northeast of India evokes hierarchies of histories and mobility. The borderland is a geography of delicate webs of relationships where a sense of fragmentation prevails. Ethnic and religious minorities who reside here, by virtue of their location, are rendered even more marginal to the project of the nation-state.
The Garos are an ethnic, religious and linguistic minority in India and in Bangladesh.  They are one of the largest communities who reside in this borderland. Before the partition of the Indian subcontinent in 1947, the imagination of a Garo homeland in the colonial times included a contiguous landmass of hills and plains which included parts of what are now India and Bangladesh. The partition in 1947 divided the larger Garo community against their will into residents of two nation states, India and Pakistan. When Bangladesh was formed, the Garos in erstwhile Pakistan became citizens of the new state, Bangladesh.
As cultural theorist Ioannis Manos puts it:
'Novel dividing lines and fresh categorizations of peoples, places, relations and identities are the outcome of a functioning of new border regimes where borders act as techniques of classifying and ordering.' 
In 2007, India started constructing a fence along the border between India and Bangladesh. Although the system of passports and visas came to effect in 1952, unofficial mobility across the border was feasible. Marriages, family visits and local trading across the border were common. The construction of the fence led to an increase in surveillance by border security forces of India and Bangladesh and severely impacted mobility across the border. The fence stands as a marker of the continual hardening of borders that is globally evident in the twenty-first century.
In 2018, I started working in Mugaipar, a small village in the Sylhet district of Bangladesh, at a distance of around 10 kms from the international border. A church was established in Mugaipar in 1952 with twenty Garo families who migrated from Mymensingh to avoid taxation imposed by Hindu kings. Over the years, the community in Mugaipar has grown around the church and has survived the great exodus of 1964 and the Liberation War in 1971. My work in the village attempted to anchor personal histories of the people in the broader context of the history of migration, mobility, identity formation and nation-building. As oral history is the traditional way of keeping records of personal and collective memory within the community, the images are made in response to personal stories shared with me by the people I met.
Across reflects on how ideas of belonging, family, identity and cultural memory are shaped and reinterpreted by the consequences of making of nation states and drawing of borders.
Prakash Bhuyan (b.1992) is a poet and photographer from Assam, India. He is currently a fellow of the PARI-MMF fellowship, 2022.
He studied photography at Pathshala South Asian Media Institute, Dhaka.  He was a participant in the 14th Angkor Photo Workshop in 2018. His work received a special mention in the ACJ Award for Investigative Journalism in 2021. He was awarded the Toto Photography Award in 2022. Prakash works as a freelance multimedia journalist based in Assam. His works have been published in The New Humanitarian, Al Jazeera, Vice, The Thirdpole, and The Caravan, among others. His work engages personal and social histories of individuals and communities in relation to landscape. Inspired from the documentary tradition his practice involves research and contextualisation of the everyday in stillness and isolation.
Taking ephemeral gestures as point of departure, he meditates on the themes of memory and belonging.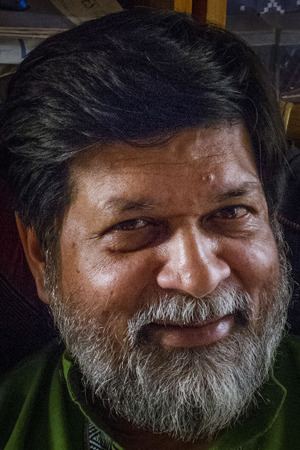 Shahidul Alam (Jury Chair) received the highest national award given to Bangladeshi artists. He obtained a PhD in chemistry before switching to photography. Exhibited in MOMA, Centre Pompidou and Tate Modern, a professor at RMIT and Sunderland Universities and Honorary Fellow of Royal Photographic Society, Alam chaired the international jury of World Press Photo. John Morris of Life Magazine described his book My Journey as a Witness as 'the most important book ever written by a photographer'. The Tide Will Turn was listed in  the New York Times' Best Art Books of 2020. Alam set up Drik, Pathshala, Chobi Mela, Majority World, Banglarights and DrikNews. He also introduced email to Bangladesh. Arrested in 2018 for criticizing his government but released on bail following a global campaign, he still faces fourteen years in jail if convicted.
Alam is a National Geographic Explorer at Large, photographer, writer, curator and human rights defender. He was named TIME Magazine Person of the Year 2018.
Photo by Rahnuma Ahmed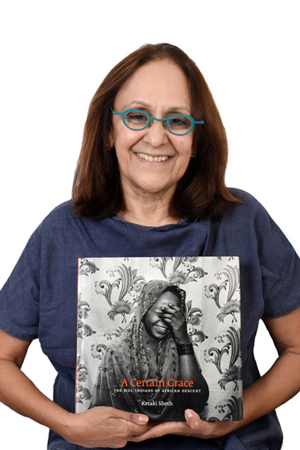 Ketaki Sheth has been a photographer for thirty-five years. She has published four books including the most recent PHOTO STUDIO, her first in colour. She has been exhibited all over the world including NGMA, New Delhi; National Portrait Gallery, London; Emile Zola Gallery, Aix En Provence amongst others. Her works reside in all the major museums including KNMA, Delhi; MOMA, NYC; The Tate Modern, London; Philadelphia Museum of Art; Metropolitan Museum amongst others. She won the Higashikawa award in Japan for best foreign photographer. She lives in Mumbai.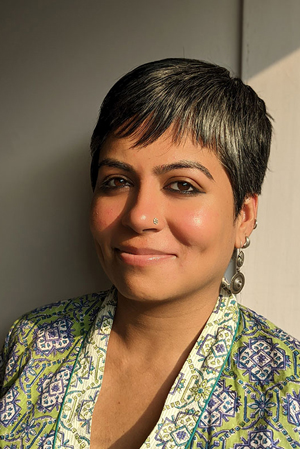 Tanvi Mishra works with images as a photo editor, curator and writer based in New Delhi, India. Among her interests are South Asian visual histories, research methodologies in image-making as well as the notion of fiction in photography, particularly in the current political landscape. Until recently, she was the Creative Director of The Caravan, a journal of politics and culture published out of Delhi. She is part of the photo-editorial team of PIX, a South Asian publication and display practice. She works as an independent curator and has been part of the curatorial teams of Photo Kathmandu and Delhi Photo Festival, as well as the upcoming edition of BredaPhoto. Her writing on photography has been published on various platforms including Aperture, FOAM and The Caravan. She has served on multiple juries, including World Press Photo, Chennai Photo Biennale Photo Awards and the Catchlight Global Fellowship. She has also been a mentor for the Women Photograph program and is part of the first international advisory committee of World Press Photo.
Announcement of Grantee: 2 December 2022
Jury Statement
It is always challenging to assess the potential for forthcoming work based on what has been submitted, but that was precisely our job at hand. What was presented was a valid indicator of the visual ability of the photographer. What we needed to map out however, was where the photographer was taking us. Whether what was being attempted was realistic, whether it had been well thought out, assessing the risks involved and what it meant – for the photographer or the subjects – whether the budget was reasonable, and above all, what impact the grant would have on the photographer's practice. We didn't always agree, but were able to draw on our collective expertise sufficiently to let go of our personal favourites to embrace the insights that emerged from what each of us was able to tease out from the delightful range of work that had been submitted.
Our conversations with the top contenders, gave us further insight into the thought processes that accompanied their projects. Their passion, commitment and concern for the people whose lives they were documenting was unmistakable. In the case of the winner, Prakash Bhuyan, the conversation also revealed his knowledge of the region, being a resident of Assam as well as his ongoing research on the Indo–Bangladesh border and surrounding areas in Meghalaya where the Garo live.
There was clearly work by several photographers which were powerful, moving, sensitive and intimate. The sheer range of work, and the diverse interpretation of documentary photography itself was refreshing. We deliberately chose not to be so hung up about definitions, but rather go for the spirit of documentary photography, the adherence to facts, and the non-fictional aspect of the genre. Having said that, the work finally selected, after considerable reflection, was classical documentary in nature.
Prakash's work was sensitive, lyrical, gentle and focussed. His budget and direction were clear. The fact that he had identified voices on both sides of the border offers a nuanced dimension to the narrative and we hope that his final images (he is working towards a book with a poetic text) will bring attention to this lesser documented, but complex subject tackling notions of identity, belonging and citizenship. His language of photography is considered, taking care while attempting to bring out stories of persecution and oppression. His approach is dignified, and his visual language is quiet – using portraiture and landscape as tropes to recall memory. His tender portraits, along with images that read like traces attempt to showcase an identity of a place and people. In today's times of fast paced news and the push towards the spectacular, Prakash relies on the subliminal, trying to track families on both sides of the border that were separated during Partition and also after subsequent measures of border control. His attempt to record personal and cultural memory within the larger political project can stand as the story for many persecuted communities, the individuals of which bear the cost of decisions taken without their voices taken into account.
We thank all the participants for trusting us with their work, for sharing their concerns and wish them the very best in the completion of their projects.