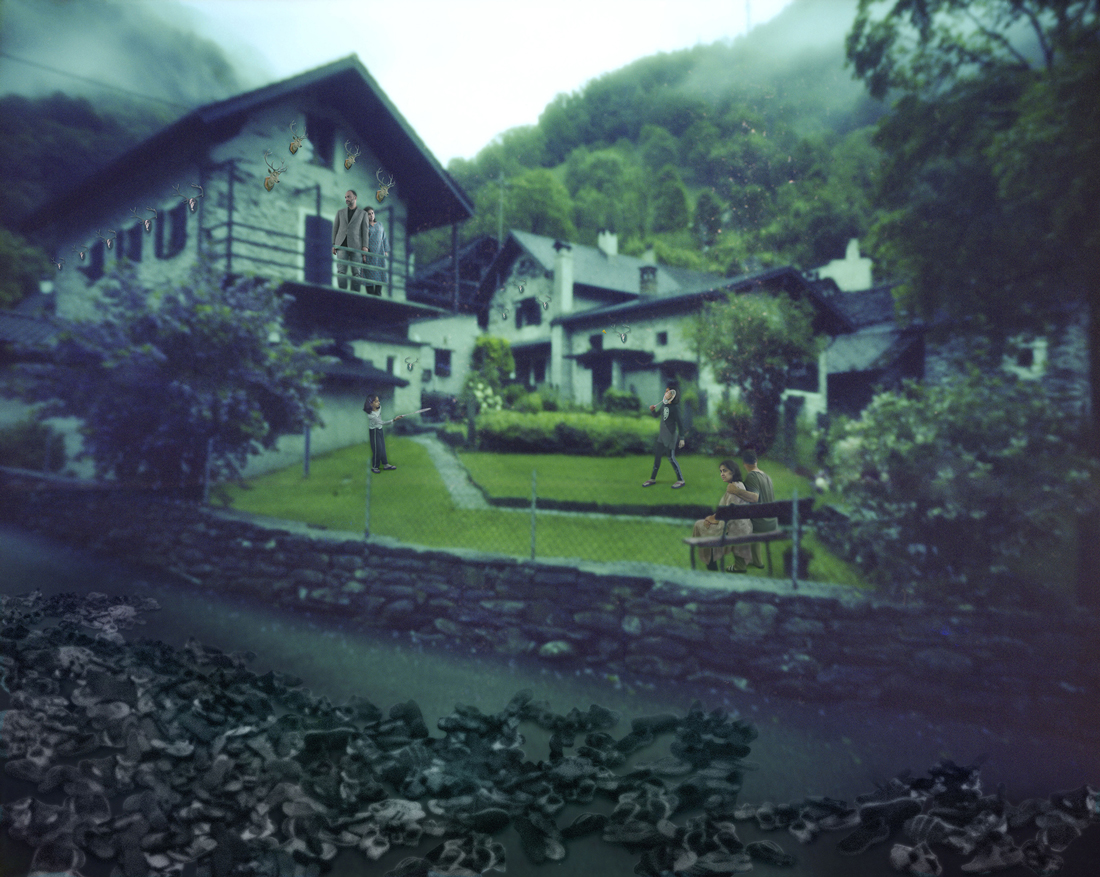 2022 | The Constructed Image Grant | Anita Khemka & Imran Kokiloo
Umrao Singh Sher-Gil Grant for Photography 2022
The Constructed Image
Grant Recipient
ANITA KHEMKA & IMRAN KOKILOO
Title of the Project
TALES FROM KASHMIR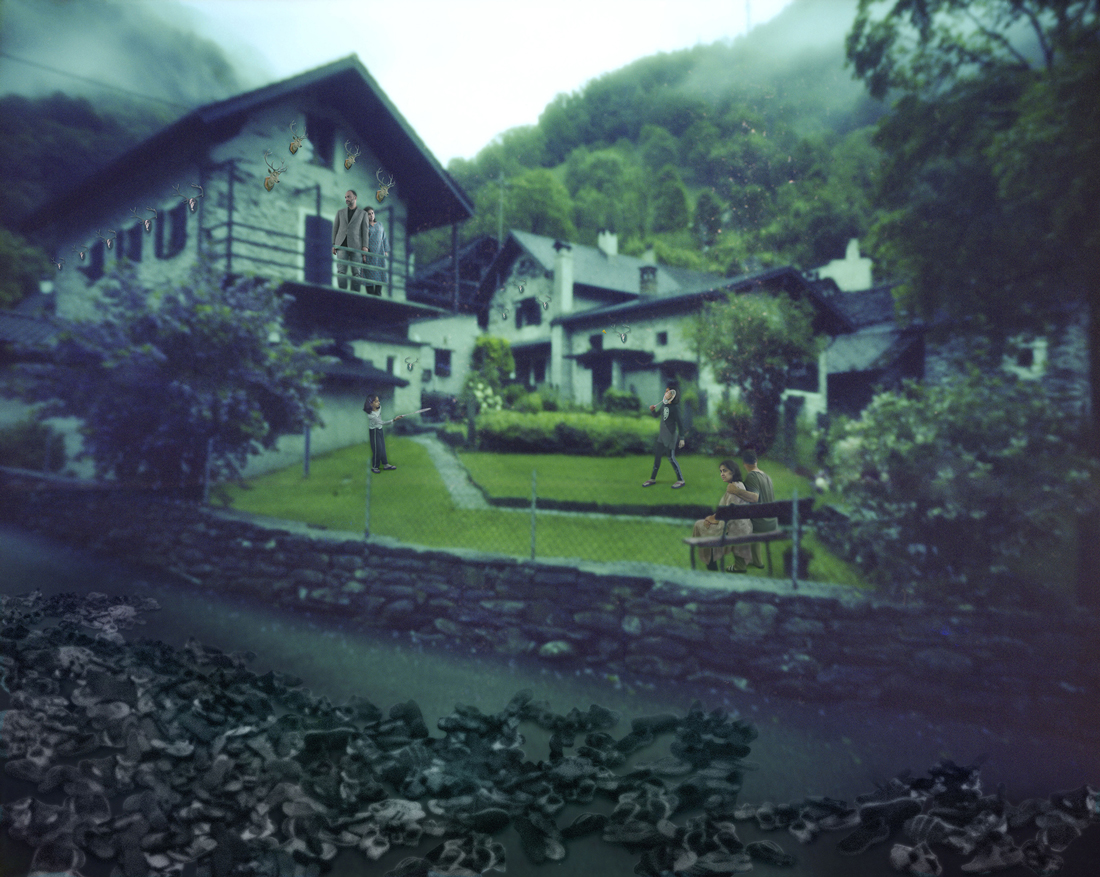 The Game, The Hangul and The Funeral from the series Tales from Kashmir. Courtesy: Anita Khemka & Imran Kokiloo / PHOTOINK.
Artist Statement
Kashmir is a territory in dispute between India and Pakistan since their independence in 1947. For the people of Kashmir, the struggle has been on for much longer through successive occupations of various invading forces. Anita and I started our work on the Kashmir conflict in 2016 as a reaction to being house locked for two weeks due to a violent shutdown in the Valley. The work that we have produced over the past six years is solely driven by a certain compulsion and understanding of the conditions under which the local population strives and survives. This focus of the work has slowly shifted from looking at ourselves as Kashmiris through others to now looking at Kashmir through us as a family. As a result, this work made over repeated visits, while tackling one facet at a time is an exploration into our own being, and what constitutes us as individuals as well as a part of a community/ethnic group.
This new chapter called Tales from Kashmir is a performative and constructed narrative that focuses on stories from Kashmir – referencing the oldest folk tales as well as the modern, unwritten yet experienced ones. The backdrop of all these tales, stories, and real-life incidents is always the environs of Kashmir. In this reimagined iteration, we are looking at the Swiss landscape as the canvas (Kashmir often being called the Switzerland of India) to draw a contrast towards a more picturesque, peaceful, and aspirational world we all want to escape to. These are images constructed to represent a state of mind, a dream, an attitude and a longing. They include elements, some of which are sharp and obvious and yet quite oblique at the same time, while others are buried and grainy yet perspicuous. There are some elements we wish to flaunt with pride like trophies, and some we wish to forget and leave behind and yet we find them present everywhere around us.
The first stage of this work was to produce large format pinhole images of the landscapes and cityscapes in Switzerland, which we completed while on a recent residency. We now propose to use these pinholes as a canvas to construct the scenes for Tales from Kashmir as they provide the perfect grainy and dreamy texture. We will create a story for each pinhole photograph, inspired by folk tales, poems and more recent events enacted to fill every image.
This work follows our long-term engagement with the Kashmiri Identity, its nuances, and the questions it poses through the ongoing conflict and the strife between two neighbouring nuclear powers over the control of Kashmir. The idea of identity is heavily laden with the stories and memories of the community across time and space. It also gives birth to and nurtures the collective intentionality of the community, which determines the responses to situations that the community faces as much as how it evolves. In this graphic work, we explore these stories and the impact they have on our being and the influence this strife has had on the stories themselves.
Each image will be constructed using three elements. Firstly, the pinhole canvas, which is an aspirational yet familiar backdrop. Secondly, an event, which is a reference to a story/tale or an incident that is deeply encased in the collective memory of Kashmir and will be played either as a centrepiece of the canvas or on the sidelines. Finally, the main characters, a family that identifies as being Kashmiri, will be introduced to the image – characters that will stay constant throughout all the fifteen images and don different personas to portray various social archetypes.
Anita Khemka (b. 1972) studied English Literature at Delhi University and Visual Merchandizing at La Salle, Singapore. Her photographic praxis of over twenty-five years has focused on the lives of socially marginalized and excluded groups and communities. She started collaborating with her partner Imran Kokiloo in 2017 and the duo has since focussed on working on Kashmir. She has exhibited widely in Europe and is engaged with The MurthyNAYAK Foundation to work on PhotoSouthAsia, a site dedicated to South Asian photography practices. She lives in Nainital, Uttarakhand with her partner and two daughters and is represented by PHOTOINK.
Imran B Kokiloo (b. 1978) started photography in 2017 in collaboration with his partner Anita Khemka. Their first series titled Kashmir: Pellet Identity was exhibited at FotoFest Houston (2018) and a print is in the permanent collection of the Museum of Fine Arts, Houston. He continues to produce work on Kashmir, which he defines as his lifelong endeavour. His work was shortlisted for the Grand Prix Images Vevey, Switzerland (2019). The duo was selected for an artist residency program in Switzerland supported by Pro Helvetia (2022). They exhibited their work titled Kashmir: The Making Of A Family Album at the Verzasca Foto Festival (2022), and Kashmir: I Hope They Serve Beer In Hell at the Landskrona Foto Festival (2022). Their work made during the global COVID pandemic, titled Shared Solitude was exhibited at PHOTOINK, New Delhi (2021).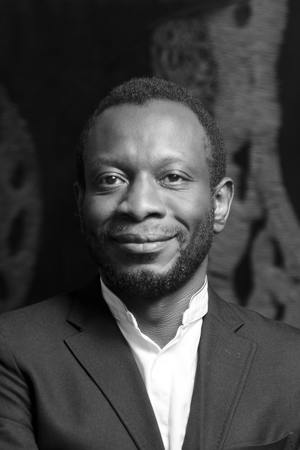 Azu Nwagbogu (Jury Chair) is the Founder and Director of African Artists' Foundation (AAF), a non- profit organisation based in Lagos, Nigeria. Nwagbogu was elected as the Interim Director of the Zeitz Museum of Contemporary Art in South Africa, from June 2018 to May 2019. Nwagbogu also serves as Founder and Director of LagosPhoto Festival, an annual international arts festival of photography that brings leading local and international photographers in dialogue with multifaceted stories of Africa.
He is the creator of Art Base Africa, a virtual space to discover and learn about contemporary African Art. Nwagabogu served as a juror for the Dutch Doc, POPCAP Photography Awards, the World press Photo, Prisma Photography Award (2015), Greenpeace Photo Award (2016), New York Times Portfolio Review (2017-18), W. Eugene Smith Award (2018), Photo Espana (2018), Foam Paul Huf Award (2019), Wellcome photography prize (2019), Social Impact Art Prize (2020), and is a regular juror for organisations such as New York Times, Lensculture and Magnum.
He was nominated as Curator for the Prix Decouverte Rencontres d'Arles 2014, Photoquai 2015, Photolux Festival 2015 and Breda Photo (2018). Other curatorial achievements include 'This is Lagos' featuring the work of Emeka Ogboh (2009), 'Dey Your Lane! Lagos Variations' for the Bozar Museum in Bruxelles (2016), 'Tear my Bra' for the Rencontres d'Arles (2016), 'Samuel Fosso: An African Odyssey' for Photo Espana in Madrid (2018), James Ostrer's 'Johnny Just Came' exhibition for Gazelli Art House, London (2018) and 'Colomental' as part of the Staatliche Museen zu Berlin program titled 'Hello World' which confronted the idea of broadening a Museums scope beyond the Western to incorporate trans- cultural and non-western artistic tendencies, in 2018. In 2019, He curated two major exhibitions during his tenure as the Director/ Chief curator of Zeitz Mocaa: 'Still here tomorrow to high five you yesterday' and 'Why should I Hesitate: Putting Drawing to Work'.
For the past 20 years, he has curated private collections for various prominent individuals and corporate organisations in Africa and the world. Nwagbogu is a curator with a special interest in future museology.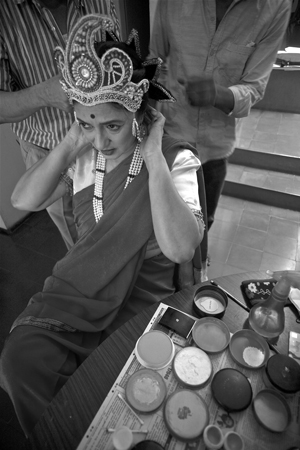 Pushpamala N has been called 'the most entertaining artist-iconoclast of contemporary Indian art'. In her sharp and witty work as a photo, video and live performance artist, sculptor, writer and curator, she seeks to subvert the dominant discourse. She is known for her strong feminist work and for her rejection of authenticity and embracing of multiple realities. Starting off her career as a sculptor, Pushpamala began using photography in the mid-1990s, creating tableaux and photo-romances in which she casts herself in various roles. Interested in history and the idea of cultural memory, she cites a wide range of references in her series of masquerades where she simultaneously inhabits and questions familiar frames from art history, photography, film, theatre and popular culture, thereby placing herself as the artist at the centre of social and political inquiry.
She has exhibited widely in India and internationally, and her works are in important collections such as Tate Modern (London), Museum of Modern Art (New York), Centre Pompidou (Paris), Art Gallery of New South Wales (Sydney), Royal Ontario Museum (Toronto), Kiran Nadar Museum of Modern Art (Delhi), National Gallery of Modern Art (Delhi) and Museum of Art and Photography (Bengaluru). Her interest in debate and discussion led her to found a fictitious institution she calls Somberikatte (Idler's Platform in Kannada) which she uses as a platform to organize lectures and seminars. In 1999 she curated, organized and crowd-funded a large public exhibition of site-specific works with three artists working on important historical sites in Bengaluru called Sthalapuranagalu (Place Legends). In 2016 she organized an international seminar: 'Mysore Modernity, Artistic Nationalism and the Art of K. Venkatappa', on the early Karnataka modern artist, at the NGMA, Bengaluru. The book on the artist co-edited by the artist and Deeptha Achar will soon be published by Routledge. She was the artistic director and curator of the Chennai Photo Biennale, Fauna of Mirrors, 2019. She lives and works in Bengaluru.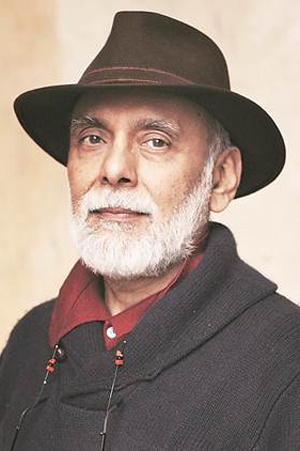 Born in Patiala, Punjab in 1953, Ranbir Kaleka studied Painting at the College of Art, Chandigarh. He spent the next few years teaching art before leaving for London on a Charles Wallace Scholarship in 1985 to study at the Royal College of Art. Ranjit Hoskote writes: 'Across the four and a half decades of his artistic activity, [Kaleka] has produced both a remarkable body of paintings, vibrant with phantasmagoria and epic disquiet, as well as a body of trans-media works that combine conceptualist sophistication with a calibrated opulence of image.'
Kaleka has participated in exhibitions across a range of major galleries and museums around the world. Some of his recent shows include Goethe Institut Max Mueller, Mumbai (2022); Palazzo Madama, Turin, Italy (2021–2022); Kiran Nadar Museum of Art, New Delhi (2021); Hong-gah Museum, Taipei, Taiwan (2021); Vadehra Art Gallery, New Delhi (2021); Vancouver Art Gallery (2020); India Habitat Centre, New Delhi (2020); the Fotofest 2018 Biennial, Houston, Texas (2018); and Asia Contemporary Art Week, Dubai (2018), among others. He has also exhibited at Volte Gallery, Mumbai (2012); Tel Aviv Museum of Art, Israel (2012); 4th Guangzhou Triennial (2011); Singapore Art Museum (2011); Prague Biennale 5 (2011); Lalit Kala Akademi, New Delhi (2011); MOCA Taipei, Taiwan (2010); SESC Pompeia, Sao Paulo, Brazil (2010); Bose Pacia Gallery, New York (2009, 2008, 2005); Mori Art Museum, Japan (2008); Sydney Biennale (2008); Museum of Fine Arts, Bern, Switzerland (2007); Spertus Museum, Chicago (2007); the 51st Venice Biennale (2005);  and Kunsthalle, Vienna, Austria (2002), to name a few.
In 2007, the Spertus Museum in Chicago commissioned Kaleka to create a Holocaust memorial. The site-specific video installation is titled Consider, and consists of two projections – a painting and an audio narrative of oral testimony from Auschwitz.
Kaleka was awarded the National Award by the President of India at the 22nd National Exhibition of Art organised by the Lalit Kala Akademi in 1979 in Delhi. In 1986, he received the Sanskriti Award. Kaleka lives and works in New Delhi.
Announcement of Grantee: 11 November 2022
Jury Statement
For the 'Constructed Image' Grant, the jury unanimously voted in favour of Anita Khemka and Imran Kokiloo for their deliberate and personal interpretation of the multiple subjective realities of life in Kashmir in Tales from Kashmir.
The jury was impressed with their location-specific approach in constructing narratives as they say 'from looking at ourselves as Kashmiris through others to now looking at Kashmir through us as a family'. This narrative shift adopts a performative mise-en-scène approach produced in situ over several return visits to various historical sites in the Kashmir region. The homage to folk narratives and the adoption of the pinhole camera was particularly impressive.
The jury recognises that the Umrao Singh Sher-Gil Grant for Photography is awarded for artists and photographers to realise and complete their submitted project. We congratulate Khemka and Kokiloo on their award and are excited to see the completed body of work in 2023.