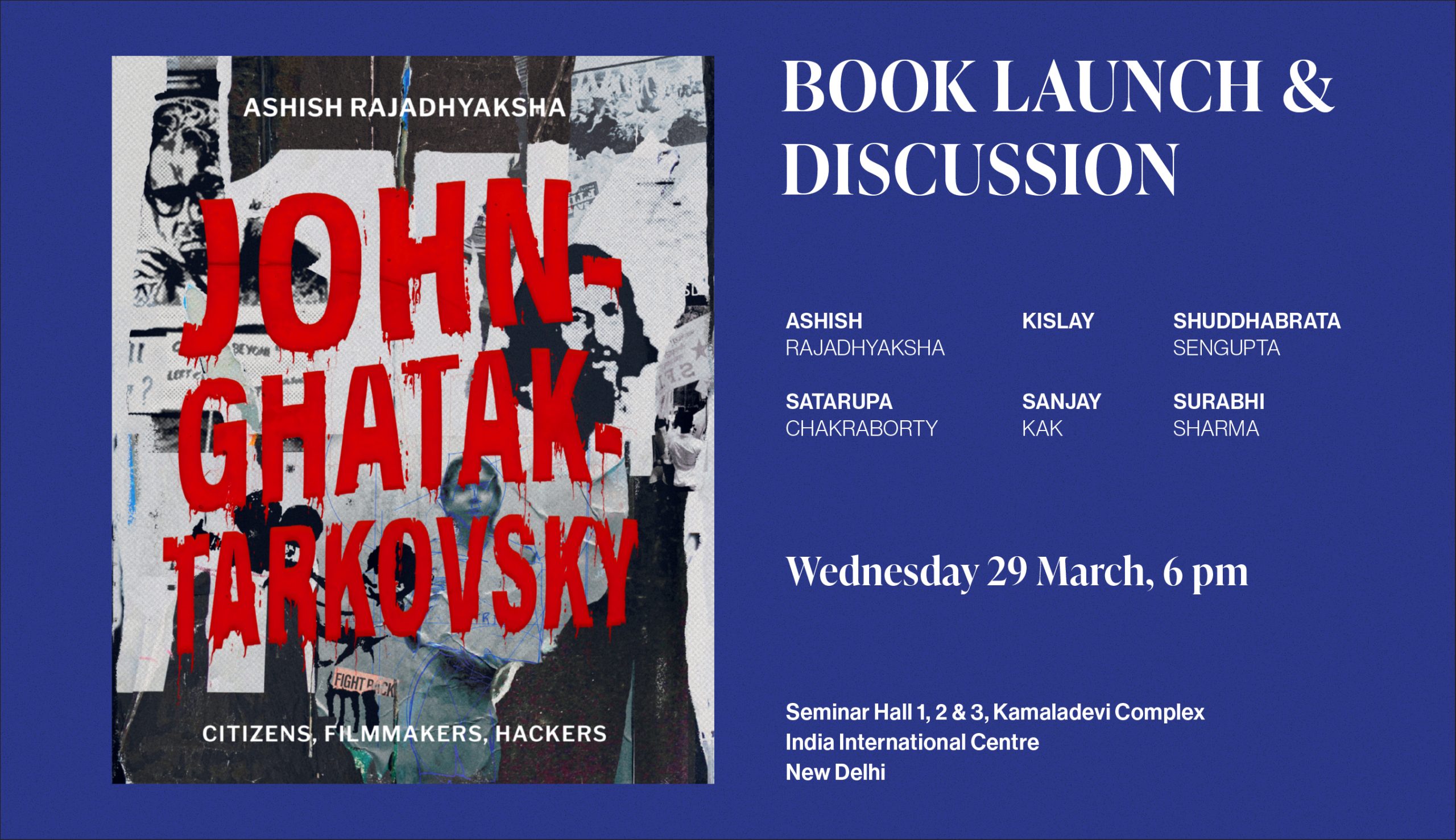 2023 | Book Launch & Discussion | John–Ghatak–Tarkovsky: Citizens, Filmmakers, Hackers
BOOK LAUNCH & DISCUSSION
John—Ghatak—Tarkovsky: Citizens, Filmmakers, Hackers
Ashish Rajadhyaksha | Satarupa Chakraborty | Kislay | Sanjay Kak | Shuddhabrata Sengupta | Surabhi Sharma
Wednesday 29 March 2023, 6 pm
Seminar Halls 1, 2 & 3, Kamaladevi Complex, India International Centre
Book Launch & Discussion
John–Ghatak–Tarkovsky: Citizens, Filmmakers, Hackers
by Ashish Rajadhyaksha,
published by SSAF–Tulika Books
Wednesday, 29 March 2023,
Seminar Halls 1, 2 & 3, Kamaladevi Complex,
India International Centre, New Delhi,
at 6 pm, preceded by tea at 5.30 pm.
Ashish Rajadhyaksha will be joined by Satarupa Chakraborty, Sanjay Kak, Kislay, Shuddhabrata Sengupta, Surabhi Sharma.
About John–Ghatak–Tarkovsky: Citizens, Filmmakers, Hackers:
In June 2015, students of the Film and Television Institute of India went on a strike that became one of the most visible of several student agitations taking place across the country that year. It reminded us once again how, as an idealized cause célèbre, cinema in India has historically been larger than itself and has repeatedly exceeded the spaces to which it has been designated. John–Ghatak–Tarkovsky: Citizens, Filmmakers, Hackers tells a longer story of the events of 2015. This is a story of the university campus, and of the academic and creative freedoms associated with it. The book speaks of the transfiguration of the filmmaker into an increasingly invisible hacker, of cinema turning into low-resolution moving images, and of how all of this redefined student protest.
'Ashish Rajadhyaksha's book, John–Ghatak–Tarkovsky, is an analysis of the very nature of cinema that makes it such a threat in the eyes of the state. It is about the right to freedom of expression and dissent at one end, and the counter-strategy to control and regulate it at the other. This is a meticulously documented tale of the journey of a means of communication that had within it the seeds of rebellion, resistance and dissent.' – Saeed Akhtar Mirza 
About the speakers:
Satarupa Chakraborty is co-editor of Students Won't be Quiet (2022) an anthology covering student protests across Indian universities. She was elected as the General Secretary of JNU Students' Union (JNUSU) in 2016, and is currently a researcher at Tricontinental Research while completing her Ph.D. in Philosophy from JNU.
Sanjay Kak is an independent documentary filmmaker, known for Jashn-e-Azadi (2007) and Red Ant Dream (2013). He edited the anthology Until My Freedom Has Come – The New Intifada in Kashmir and assembled the photobook Witness – Kashmir 1986-2016: 9 Photographers.
Kislay is a filmmaker. He made the much-acclaimed debut feature length film Aise Hee (Just Like That, 2019) and two short films. He is an alumnus of Film and Television Institute of India.
Shuddhabrata Sengupta is an artist and curator with the Raqs Media Collective.
Surabhi Sharma has been an independent filmmaker currently teaching in the Film and New Media Program at New York University, Abu Dhabi. Her documentaries, fiction, and video installations engage with cities in transition using the lens of labour, music, and migration. She is an alumnus of the Film & Television Institute of India.
Ashish Rajadhyaksha is a film historian. He has written extensively on the cinema, including the Encyclopaedia of Indian Cinema (with Paul Willemen) (1994/1999), Indian Cinema in the Time of Celluloid: From Bollywood to the Emergency (2009) and The Last Cultural Mile: An Inquiry into Technology and Governance in India (2011).